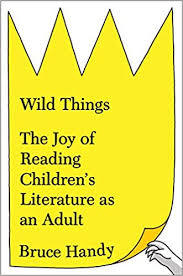 Wild Things: The Joy of Reading Children's Literature as an Adult by Bruce Handy
Review by Lauren
source: copy from ALA17; all opinions are my own
Official Summary (add on Goodreads):
In 1690, the dour New England Primer, thought to be the first American children s book, was published in Boston. Offering children gems of advice such as Strive to learn and Be not a dunce, it was no fun at all. So how did we get from there to Let the wild rumpus start ? And now that we re living in a golden age of children s literature, what can adults get out of reading Where the Wild Things Are and Goodnight Moon, or Charlotte s Web and Little House on the Prairie? 
In Goodnight Nobody, Vanity Fair contributing editor Bruce Handy revisits the classics of every American childhood, from fairy tales to The Very Hungry Caterpillar, and explores the back stories of their creators, using context and biography to understand how some of the most insightful, creative, and witty authors and illustrators of their times created their often deeply personal masterpieces. Along the way, Handy learns what The Cat in the Hat says about anarchy and absentee parenting, which themes are shared by The Runaway Bunny and Portnoy s Complaint, and why Ramona Quimby is as true an American icon as Tom Sawyer or Jay Gatsby. 
Review
: I feel like I'd seen this one around before coming upon it at ALA, but at any rate, when I read the back of the book, I knew I needed to read this one. If you're at all a fan of children's literature, I would recommend this book. I've taken a few children's literature courses, especially when getting my Master of Science in Library Science, and I think this would make a great textbook of sorts. Not that it reads like a textbook. There is information about the authors and the time period, when concerning certain books, as well as other information about the particular titles being discussed. While I definitely haven't read all of these books, I know most of them, so it was easy to follow. I appreciated Handy's writing style. It's informative, but easy to read. The books he focuses on go from picture books through middle school. There are many books and series he doesn't touch on, or he does very briefly, and it would have been nice to know more about these (an example would be Roald Dahl) but there isn't room for everything!
I loved the little anecdotes about the authors and their work. Sometimes one finds out that an author wasn't as forward-thinking as one would like, but it's a testament to the times they lived in too. Readers will learn about Beatrix Potter's love for animals and how that inspired her stories about Peter Rabbit. There is also E.B. White's famous book, Charlotte's Webb – did you know White lived on a farm? He also wanted illustrations of Charlotte to be extremely realistic – as someone who hates spiders, I'm not sure I would have handled that well!
This book definitely made me want to read certain titles I never got to as a child – like Ramona Quimby's first book. I think it will do the same for many others, especially parents who want to re-explore these stories with children.
***
As part of my 10 year blogoversary celebration this month, I'm doing some fun guest posts and today I'm over at A Simple Grace – please check it out
here
(Life Lessons Learned from 10 Years of Blogging) -and thank you to Lecy for having me!