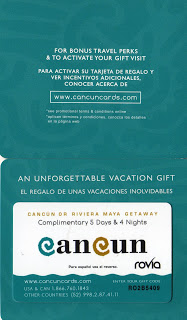 Happy Saturday everyone! I have some fun news I wanted to share with everyone.
*First up, is a chance to win a vacation to Cancun, Mexico. There are some stipulations…but if you qualify, this would be one wonderful vacation. Plus, the money you donate to get said vacation goes to help two different people (both dealing with tough medical and family obligations). I love everyone that has already bidded, but I think we can do better. Let us try and break at least the $100 mark. After all, this is worth $800 and something! You'll most likely pay way less, but we still want to raise a lot, so please help out. Spread the word via your blog, twitter, facebook. Tell friends and family. If you have a family with younger children…this would be great, as you can bring them along. Check out the post for all the deets. But hurry! It ends Thursday, June 30 at 8 p.m. EST!
*Catherine Ryan Hyde is a favorite author of mine. She writes incrediblely beautiful and time-worthy novels. And now…you can get her book Second Hand Heart in the U.S. (it was previously only in the U.K.) However, it's just as an e-book. This means, all you out there with an e-reader…get to ordering!! If you're like me, e-reader-less, then we shall wait togethr for the paperback release…coming soon apparently as well! We shouldn't have to wait long.
*Same-sex marriage is now legal in New York. Finally! Let's hope other states follow suit.
And finally…my next news is another big one. You have one more month (and maybe longer, if I decide to extend it) to enter the big LGBT summer giveaway. All you do is buy an LGBT-themed book and send me a photo or reciept via my email: Lauren51990 AT aol DOT com. Doing so enters you to win an LGBT themed book basket. You can find more details and the prize contents (lots more to be added) here!!
I could really use help with spreading the word on this one as well. I love books with lgbt themes or characters, and the authors deserve more love. So please show it's there!
On that post, you'll see something about a scholarship. I designed this myself. It is for LGBT teens and Allies who are working to make a difference…show that everyone is accepted, and not just tolerated. It's called the "Living Beyond Tolerance Scholarship." More details here. I'm happy to be interviewed about this or write a guest post. I already did so on Gay YA. If you have general questions, please get in touch. I want this to go to someone wonderful…but we need them to know it's there.