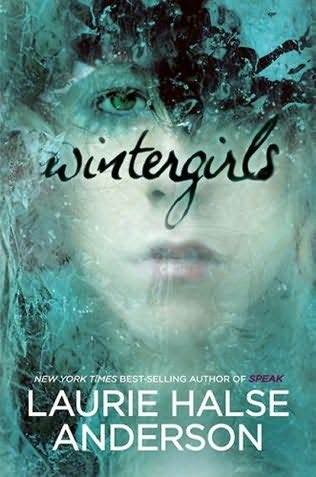 Wintergirls by Laurie Halse Anderson
Review by: Lauren
Lia and Cassie were best friends, but as they get older, Cassie starts to worry a lot about weight. While Cassie will eat as much as she wants and throw it up after, Lia sticks to hardly eating anything at all. However, once in High School, the two of them drift apart until the night Cassie dies in a motel room. She called Lia 33 times. Lia never answered. Now even more alone in her illness, Lia continues listening to the voices telling her she's nothing and should weigh nothing, no matter how much her family tries to stop her before she ends up like Cassie.
Wintergirls was a phenomenal book. Anderson takes a tricky, heart-wrenching, and sadly very common topic and writes it in a way that allows the reader to go along on this journey with Lia, understanding if not agreeing with her thoughts and feelings. Wintergirls might be written in a narrative format, but it's pure poetry at heart.
This book is released on March 19, and I suggest everyone go and get a copy. Wintergirls is a powerful book. It makes no promises, gives no happily-ever-after. This is true life, not a fairy tale, and it might be hard to read at times but it's an exceptional story about a world that simply comes alive.
If you saw my last post about eating disorders, you know all about my love for Hollyoaks. If you haven't, please read that to better understand the videos I'm about to post and I'd love to further the discussion on either post as well.
Now, these two videos were made by fans chronicling the storyline of Hannah Ashworth and her friend Melissa, two girls suffering from anorexia and bulimia. The first video has an amazing song that really fits, and the second video shows a lot of parts that I thought back too while reading Wintergirls. You see, in the novel, Lia sees Cassie after she dies (I won't go into detail, read the book) and in Hollyoaks, Hannah sees Melissa right after she dies, so in the second video there are a couple parts that show this. 1. When Melissa is sitting in the chair and then disappears and 2. When Hannah turns and waves goodbye to Melissa the end.
I know not everyone will know what this show is, as it's only out in the UK, but the videos are powerful and pretty easy to understand nonetheless I believe, so please watch them. Any questions? I'd be happy to answer them!
Video One:

Second Video: