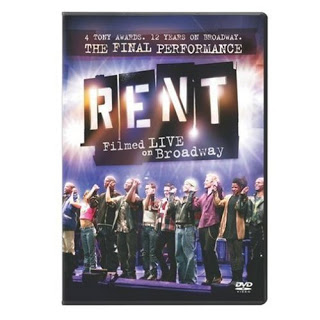 RENT: Live on Broadway DVD
Out on February 3, 2009
Rent has left Broadway, but they filmed one of the last performances and it is now being presented to all Rentheads out there on DVD. They did play this in theaters as a special presentation for a few days, and my sister and I went. I'd seen RENT performed live twice and even watched the movie many of times, but this experience is truly extraordinary. Filming the play live, it allows everyone a chance to practically be a part of the show. You get right up next to the actors, allowing a glimpse into the things you might not have noticed from far away.
The last time I saw RENT live, it was at the Nederlander theatre in New York City. By all means, that was a fabulous experience, and I'm so glad that I was able to see it before it closed on Broadway. However, for those that aren't as lucky, this is your next opportunity. Almost all of the actors and actresses who were performing when I saw it in New York were there for this filming, except for the woman playing Joanne. I was rather shocked to go and see this and realize that Joanne was being played by the movie's very own Tracie Thoms. It was amazing!
Basically, if you are a fan of RENT, you need this DVD, and I can't wait until Tuesday so I can go and get it myself.