Pompidou Posse by Sarah Lotz (Out Now)
It's the late eighties and British teenagers Vicki and Sage go on the run in Paris after burning down their art-school pottery shed. Penniless, homeless, and worst of all, out of cigarettes, it isn't long before they find themselves living on the streets. Survival means not only learning to navigate the perils of soup-kitchens, begging, hallucinogens and sleeping rough, but also dealing with charismatic gypsy fire-eaters, violent German hoboes, teargas-happy gendarmes and sexual predators, including Taffy, a psychotic one-legged Welshman.While Sage battles with her own damaging secrets in the angry scrawls of her diary, naïve Vicki finds herself drawn to the damaged and often dangerous people living outside society. Can the girls emerge from this experience with their friendship and sanity intact? Both harrowing and darkly humorous, Pompidou Posse is a unique glimpse into the dark side of Europe's most glamorous city.
Screwed by Joanna Kenrick (Out Now)
Marsha is a fourteen-year-old slag. She and her friend Faith regularly go out looking for a good time, which more often than not involves sex. Both from broken homes, they don't see anything wrong with the way they behave. Until Marsha meets Rich. Rich is different. Unsure, and from a loving family, he finds Marsha a bit too full on. But being with Rich is like being with a friend – one who listens to her and asks her opinion. Rich makes her feel that she's worth more than a quick shag in the park. But is it possible to change? Screwed examines the question of peer pressure, family and their influence on identity. It also takes a frank look at the all-too-common social problem of underage sex and its consequences.
The Thornthwaite Inheritance by Gareth P. Jones (Out in July 09)
Ovid and Lorelli Thornthwaite have been trying to kill each other for so long that neither twin can remember which act of attempted murder came first. But whoever struck first, trying to take each other's lives is simply what they do. Until one day a lawyer arrives at their house to take stock of its contents, and his accompanying son attracts their attention. Soon a new battle evolves – one in which the twins have to work together to solve the mystery of their parents' deaths. Can Lorelli and Ovid overcome their old animosities, and will they ever get to finish that game of chess?
Ghosts and Lightning by Trevor Byrne (Out in Dec. 09)
Happy or unhappy, all families are a mystery. None more than the Cullens. Having escaped their clutches and moved across the water, Denny is just beginning to make a life for himself when a call from his sister brings him back to Dublin, city of his birth. Back to square one. As if squabbling siblings and unhelpful childhood friends weren't trouble enough, a ghost starts making appearances in the family home and Denny's life starts to get a lot more complicated.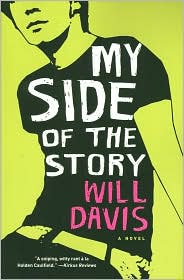 My Side of the Story by Will Davis (Out Now)
'My name is Jarold, but everyone calls me Jaz, which is a damn sight cooler. I think you'll agree. I'm sixteen (just) and I have two remarkably undivorced parents, along with a sister and a grandmother and we all live in the same house together just like in a TV show. I've just started my A levels too, which me and Al are planning to fail, which is our way of saying Fuck You to the British educational standard.' So what if your parents hate each other and want you to have therapy? So what if your holier-than-thou sister and her posse have decided you're going to hell? So what if the school tyrant and his goons are hunting you down, or if your best friend has just outed you to a neo-Nazi? Jaz isn't planning to lose any sleep over it – at least until he meets the guy of his dreams at the local gay bar. Suddenly things are a lot more complicated. Witty, acerbic, and incredibly funny, "My Side of the Story" is the perfectly rendered portrait of a precocious, troubled teenager faced with the awkward process of growing up and coming out.
The Year I Turned Sixteen by Diane Schwemm (Due out January 2010)
The Year I Turned Sixteen by Diane Schwemm is the story of four sisters, four birthdays, and four unforgettable years.