Wishing All Week
Instead of having a Wish-List Wednesday this week, I decided to post this today and it will probably remind you a lot of Kristi's (
http://www.thestorysiren.com/
) "Books To Pine For" posts. I love hers and she does them all the time which is just mind-blowing. How does she find them all?! I'm sure I'm not the only one who has asked this before.
Anyway, today is my version of that, but it's Wishing All Week because there are 7 (seven days in a week, people!) books that I would love to have.
Before we get started, I just want to say now: Leave your thoughts in the comments!
Dani Noir by Nova Ren Suma
Out from Aladdin on Sept. 22, 2009
Dani Noir, by Nova Ren Suma is a tween novel inspired by big lies, big secrets, and old Hollywood glamour!
This is all I know but doesn't it sound adorable? Such a pretty cover. It does make me think of old Hollywood.
Consequences…Don't call me baby by Laurie Depp
Out from Hodder & Stoughton on Sept 1 2009
17-year-old Katie is overwhelmed when she lands a job as a nanny for Premier League soccer player Brett Ballentine and his wife Kassie's kids. Arriving at the Ballentine mansion in London, Katie feels as though she's living in a magazine. She's got a whole floor of the house to herself, her own car, and the inside scoop on Britain's most notorious celebrity couple.
But there is a downside. Katie has to learn to keep her mouth shut when it comes to some of Kassie's strange and desperate behavior. And Brett is like the ice man—he barely acknowledges her. As time goes on the "happy couple" reveal their true colors, and the true state of their volatile marriage. Kassie has a twisted secret, and Brett's getting too fond of "playing away." Katie feels like she and the kids are caught in the middle of a war zone, culminating in a shocking revelation about Brett. But while Katie struggles with her predicament, a budding young photographer snaps the picture the tabloids have been waiting for and catapults herself into the limelight.
I love this cover and it sounds like a fun read. I'm excited it's set in London!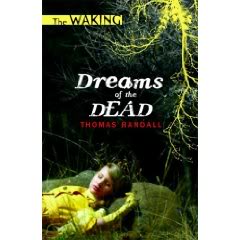 The Waking: Dreams of the Dead by Thomas Randall
Out from Bloomsbury USA children's books on Oct 27, 2009
Kara's afraid to go to sleep—until the nightmares come when she's awake . . . .
Sixteen-year-old Kara Foster is an outsider in Japan, but is doing her best to fit at the private school where her father is teaching English for the year. Fortunately she's befriended by Sakura, a fellow outsider struggling to make sense of her sister's unsolved murder some months ago. No one seems to care about the beautiful girl who was so brutally murdered, and the other students go on as if nothing has happened.
Unfortunately, the calm doesn't last for long. Kara begins to have nightmares, and soon other students in the school turn up dead, viciously attacked by someone . . . or something. Is Sakura getting back at those she thinks are responsible for her sister's death? Or has her dead sister come back to take revenge for herself?
This first book in a frightening new trilogy will have teens glued the page and scared to go to sleep.
This sounds amazing. It reminds me of author Laurie Faria Stolarz' books. Anyone else think so? And the cover is amazing. The girl looks really old-fashioned in a way.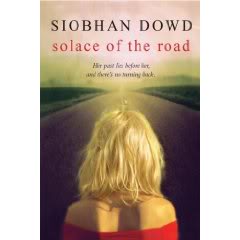 Solace of the Road by Siobhan Dowd
Out from David Fickling books on October 13 2009
Holly's story will leave a lasting impression on all who travel with her.
Memories of mum are the only thing that make Holly Hogan happy. She hates her foster family with their too-nice ways and their false sympathy. And she hates her life, her stupid school, and the way everyone is always on at her. Then she finds the wig, and everything changes. Wearing the long, flowing blond locks she feels transformed.
She's not Holly anymore, she's Solace: the girl with the slinkster walk and the supersharp talk. She's older, more confident—the kind of girl who can walk right out of her humdrum life, hitch to Ireland, and find her mum. The kind of girl who can face theworld head-on. So begins a bittersweet and sometimes hilarious journey as Solace swaggers and Holly tiptoes across England and through memory, discovering her true self and unlocking the secrets of her past.
There have been a lot of journey books, but I'm really excited to read this one. I think it's a fun idea and makes some coming-of-age stories unique. And it's set in England, I love "foreign" novels.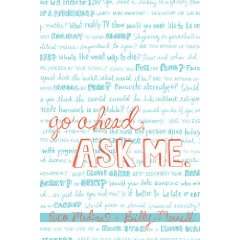 Go Ahead, Ask Me by Nico Medina and Billy Merrell
Out from Simon Pulse on October 6 2009
Go Ahead, Ask Me. is full of 500 questions that are sure to spark convos, truths, laughs, and buried secrets.
I don't know the exact set up of this book, and it's not an actual fiction book, but I think it sounds like a lot of fun. I'm always a fan of those "Would You Rather…?" questions, so it kind of reminds me of that but on a larger scale.
Rock and Roll Soldier: A Memoir by Dean Ellis Kohler with Susan Vanhecke
Out from HarperCollins in September 2009
In 1966, teen guitar prodigy Dean Kohler landed a record deal and his draft notice the same week. Rather than give up his rock star dreams, Dean improvised some instruments and equipment, taught a few fellow soldiers to play, and formed his own touring rock band right there in the combat zone – all without missing a single patrol. What started as a lark ultimately became a lifeline for Dean and the band, as well as the hundreds of combat-weary troops they played for.
Rock 'N' Roll Soldier (former working title Flak Jacket Rock) is the true story of Dean Kohler's wartime experience. One moment Dean and the band are patrolling and going toe to toe with the VC. The next they're commandeering a Jeep to drive to Pleiku, traversing the deadly An Khe Pass, to play "We Gotta Get Outta This Place" for a throng of cheering GIs. Unbelievably, Dean and his group even cut a record there in the jungle, crafting a makeshift sound studio on a war-zone mountainside. Dean and the other members of the Electrical Banana (a name inspired by a Donovan song) create their own bit of order out of chaos, bringing a sense of normalcy to the surreal hell of jungle war. Co-written with Dean Kohler.
I love memoirs and with the war going on now, I think this one is very appropriate. It's nice, also, that it focuses on a lighter topic as well-music-which I love reading about in books. Win-win for me!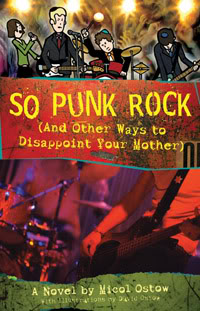 So Punk Rock (and Other Ways to Disappoint Your Mother) by Micol Ostow and David Ostow
Out from Flux in July 2009
Despite his dreams of hipster rock glory, Ari Abramson's first-ever band, the Tribe, is more white bread than indie-cred. Comprised of four suburban teens from a wealthy Jewish day school, their Mötley Crüe is about as hardcore as SAT prep and scripture studies.
But after a one-song gig at a friend's Bar Mitzvah — a ska cover of Hava Nagila — the Tribe's popularity erupts overnight. Now, Ari is forced to navigate a minefield of inflated egos, overbearing parents, misplaced romance, and the shallowness of indie-rock elitism. It's a hard lesson in the complex art of playing it cool.
Loaded with sarcasm and delicious pop culture condescension (not to mention David Ostow's too-cool-for-school cartooning work), So Punk Rock is the E! Behind the Music story of an epic Jewish band that never was. If it got any more kosher, it'd be totally traif.
Doesn't it sound amazing? Not only does the story look good, I'm extra stoked to see David's pictures inside. The cover, by the way, is just another one that I love. 🙂
Well, that's my list. Seven books I'd LOVE to read. So authors out there, if you see this: I'd be happy to help promote somehow if you think we could.