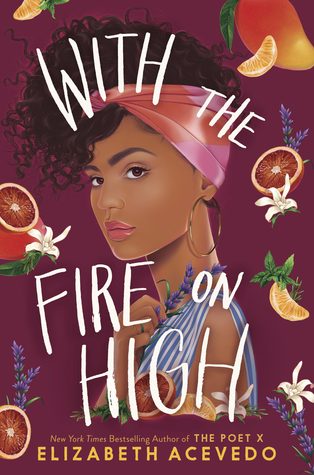 With the Fire on High by Elizabeth Acevedo
Review by Lauren
Source: library copy; all opinions are my own
Official Summary (add to Goodreads): With her daughter to care for and her abuela to help support, high school senior Emoni Santiago has to make the tough decisions, and do what must be done. The one place she can let her responsibilities go is in the kitchen, where she adds a little something magical to everything she cooks, turning her food into straight-up goodness. Still, she knows she doesn't have enough time for her school's new culinary arts class, doesn't have the money for the class's trip to Spain — and shouldn't still be dreaming of someday working in a real kitchen. But even with all the rules she has for her life — and all the rules everyone expects her to play by — once Emoni starts cooking, her only real choice is to let her talent break free.
Review of With the Fire on High
This is Acevedo's second novel, and I actually read this one right after The Poet X since it was one of the YA fiction nominees for the Cybils Awards. While I didn't hate The Poet X, I did enjoy With the Fire on High a lot more. This one isn't written in verse, but I liked that Acevedo shows that she can write just as well outside of poetry.
Emoni was a really easy character to like. She's a teenage mom who used to dream of being a chef one day. She's not really sure how that will work out now that she has a toddler. The book takes place throughout Emoni's senior year, and it was great seeing her learn new things about food and being a chef, how to navigate feelings for a boy when she hasn't dated since she got pregnant, and just living life as a teenage mom.
Her own mom passed away in childbirth, and her dad only visits here and there, so she's mostly been raised by her Abuela (grandmother), who I really loved, and it's wonderful how she was such a huge help in raising Emoni's daughter Babygirl (aka Emma). I also really loved her best friend, Angelica, who was always there for her when she needed it.
All in all, this was a good read. I do have to make one small quibble – you know the cliche "she let out a breath she didn't know she was holding?" Yeah, I think that was written in the book a total of three times. Honestly, it's a minor quibble, but reading it over and over always makes me roll my eyes a bit!
*this is an affiliate link; I get a small percent of any sale at no extra cost to you*