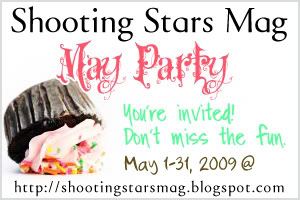 That's right! We are having a party through the whole month of May.
I know a lot of people have done these celebrations for their birthdays or blog anniversaries and I thought it might be fun to try my hand at this as well.
So what's May? Well, it's my birthday: May 30
Vampire Contest courtesy of Lucienne Diver, author of Vamped
Faryl Smith Contest for a copy of her Debut Album
Violet Interviews her Creator Melissa Walker about Lovestruck Summer and more
Shrinking Violet by Danielle Joseph Review + Contest
Julie Kraut reviews Sleepaway Girls and interviews Jen Calonita
Jen Calonita reviews Slept Away and interviews Julie Kraut
Camp contest with Jen and Julie
Interview/Guest blog with Susane Colasanti and Contest for Waiting for You
Win Dull Boy by Sarah Cross and other Superhero items
Review of David Inside Out by Lee Bantle
Review for Punkzilla by Adam Rapp + 5 people get an ARC
Interview with SolarHalo Studios (jewelry, photos) + Contest
I think that's about it. I just want to say that author Sarah Cross (Dully Boy-out in May) was super awesome and made the graphic above for me, as well as another one that you will probably see later!