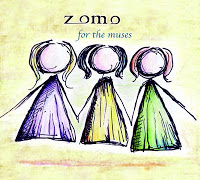 Zomo Album Reviews: For the Muses and Triangle of Drunk
By: Lauren
For those that entered the contest to win these albums by commenting on the interview, don't forget to also comment on this review for another shot at winning. The contest ends this Saturday! Thanks!
A lot of the songs on For the Muses are longer, around six minutes for the most part. The songs go back and forth between soft and relaxing to more up-tempo and emotional.
I do like the lyrics, which is good because that's a huge part of music for me at times.
The vocals aren't that bad. Sometimes it's a bit rough, but gets better in other songs such as "Harvey Wallbanger" which is actually one of my favorites on the album. It starts off slow, but begins to pick up speed a little way in. I especially love the chorus. Another song on the album is "All My Love" which I enjoyed more as it went on. The drums are a bit different, but cool for the song. Finally, I'll leave off with the first song of the album, "I Am a Rock" which has good music and is very catchy.
Their next album is Triangle of Drunk which I did enjoy for the most part, though I wasn't a complete fan of a few songs near the beginning such as "Never Trust A Car Salesman with a Cowboy Hat." However, "This is My Life in an A-Frame House" had a very unique sound making me think of older 80's type music, though of course, that's just my interpretation and thoughts while listening. In the middle of the album, you come to a song titled "Black Little Face" which has a calm and slow feel. I liked it a lot!
Overall, I think Zomo is a different and interesting sound. I love the variety of music and lyrics, showcasing their various interests and talent. I'm sure that most people will find something to enjoy on either of these albums.