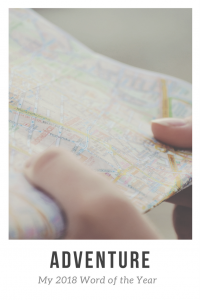 2017 was the first year I ever chose a Word of the Year. In case you don't know what this means, it's when you choose one word that encompasses the goals and ideas you want to focus on for the year. I chose the word "Perseverance" and while I gave three examples in my original post , I definitely didn't accomplish all of them. However, these are just things that I will bring into 2018 and continue to do my best with. However, I did do really well with #3 which pertained to the weight loss program I began in the beginning of the year. I meant to do posts throughout the year on my progress and things I learned, but unfortunately, I only ever did one. I'll definitely do better in 2018 because this journey continues and I want to share it with others! I can say though that I'm down about 40 pounds, and that took a lot of perseverance when it came to eating healthy and trying to find ways to exercise that worked for me and my body. Don't worry…I'll share more in the new year!
2018 Word of the Year + A Look Back at 2017's Word! #wordoftheyear #newyearsresolution #ontheblog
Click To Tweet
Now that the year is almost over, it's time to start focusing on what I want to accomplish in 2018. I still think that my 2017 word will be utilized a lot in the new year, but I wanted to pick something new and therefore, I'm going with…
Adventure
I love Oprah's magazine and this whole past year she focused on Adventure, which often related to actual travel. While I do hope to do a little of that in 2018 (nothing concrete planned yet), I also want to use Adventure in all aspects of my life. I want to be more adventurous with the things that I do and try. This includes trying new foods and exercise to continue my path of being healthy, trying new things with the blog (maybe reaching out to brands on my own more and see what happens), and using my city as a place to find adventure. I love attending local events, and I want to really continue doing that in 2018. I live right outside Cincinnati, Ohio and I want to continue to take advantage of that – especially since my nieces and nephew are moving back! I'm so excited to explore the city with them too.
So tell me – what is your word of 2018? What resolutions or goals do you hope to work on in the new year? I'd love to know! And link up your post if you have your own!