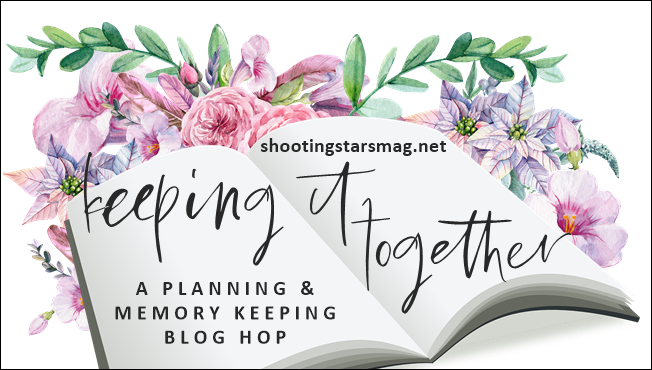 For those that are new, Keep It Together is a monthly link up (every third Thursday of the month) where we talk about planners, scrapbooks, and any other form of memory keeping. Please do link up any post – old or new – in the linky below. Thanks to my co-hosts Rebecca Jo and Alexandra!
A Look at My 2021 Planner
I decided to go away from the Happy Planner this year and try something new. I went with the book bound edition of the Simplified Planner. First thoughts? I'm really loving it! I like that it opens up like a book and it's a perfect size.
Here is a look at what I've done so far in terms of decoration, etc.-
Here is the first half of the monthly spread for January. As you can see, I'm still using Happy Planner stickers. There aren't a ton of decorations in terms of stickers (and no washi tape) but I'm going to keep adding things as the month ends. I don't want to fill up too many of the squares until the month is over in case I need that space for something.
This is the other side of the monthly layout. Each month has a Simplicity Tip at the top, which is kind of fun. I don't know that I'll utilize most of them but it's a cute touch and goes with the overall brand of Emily Ley (who created the Simplified Planner).
Here is a look at one of the weekly spreads. I really love that it has two sections – one with just lines and the other with lines and a circle so you can add and check off tasks/to-dos. Unfortunately, Saturday and Sunday doesn't include the task side and the first paragraph side is much smaller. That would be my only complaint – otherwise, I think it's set up well and I'm really trying to use these pages to give more details about my life, the world, etc. I keep all my old planners so I like having all these moments included to look back on.
Here is a look at part of my monthly calendar for February. This one is fun to decorate. As you can see, I have a couple of virtual baby showers to attend which is exciting!! I'm also having carpal tunnel release surgery next month on my right hand. I need it in both, but I thought one at a time would be best in terms of healing time, etc. Everyone I've talked to has said that people they know who did both hands at the same time couldn't even go to the bathroom by themselves, and I don't want that!
***
How is your 2021 planner coming along? Are you using it more than you did last year? Obviously my pages aren't as pretty as Rebecca Jo's, but I'm doing my best. I want the pages to be happy and fun. It really feels like a planner and journal in one and I love that.
Please link up your own posts!
You are invited to the Inlinkz link party!