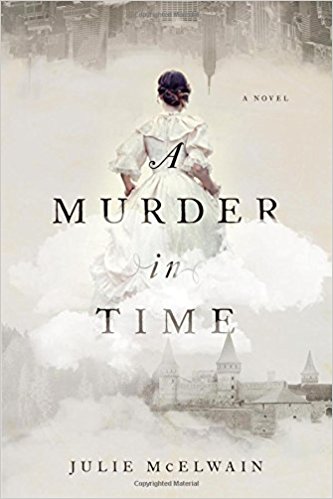 A Murder in Time by Julie McElwain


Review by Lauren


source: library e-copy; all opinions are my own


Official Summary: Beautiful and brilliant, Kendra Donovan is a rising star at the FBI. Yet her path to professional success hits a speed bump during a disastrous raid where half her team is murdered, a mole in the FBI is uncovered and she herself is severely wounded. As soon as she recovers, she goes rogue and travels to England to assassinate the man responsible for the deaths of her teammates.

While fleeing from an unexpected assassin herself, Kendra escapes into a stairwell that promises sanctuary but when she stumbles out again, she is in the same place – Aldrich Castle – but in a different time: 1815, to be exact.

Mistaken for a lady's maid hired to help with weekend guests, Kendra is forced to quickly adapt to the time period until she can figure out how she got there; and, more importantly, how to get back home. However, after the body of a girl is found on the extensive grounds of the county estate, she starts to feel there's some purpose to her bizarre circumstances. Stripped of her twenty-first century tools, Kendra must use her wits alone in order to unmask a cunning madman.


Review: A Murder in Time is a book that I just recently started seeing around. I actually thought the sequel, A Twist in Time, was already out when I read this, but it just recently released earlier in the month (so it's out now!) You better believe I need my copy of it ASAP. Its predecessor, A Murder in Time, was a fantastic read. While it's quite lengthy, it kept me reading, desperate to know more. Definitely a favorite of the year – and just a favorite in general -and it's one I'd highly suggest you read if you're at all interested.


The basic of the story is FBI agent Kendra Donovan is involved in an operation that goes badly wrong and she sets out for England in an act of justice, or even revenge. This self-appointed mission takes her to England's Aldrich Castle. When she tries to hide in a stairwell, she ends up coming out in 1815. Yes, there has been some case of time travel. What I loved about Kendra and the whole idea of time travel in this book is that Kendra is exceptionally smart – having been the youngest to join the FBI's Behavioral Analysis Unit- so while she cannot figure out how she came to be in 1815, she does ponder time travel research and the ability for seconds-long time travel. I thought this an added touch that brought scientific theories and ideas for what could have possibly occurred.
Being in 1815 though proves to be a challenge for Kendra, as she ends up as a lady's maid in Aldrich Castle. This particular job doesn't last long and by the end of the book, Kendra's held a few positions in the castle. Regardless, the biggest job that Kendra ends up with is helping the Duke and his nephew, Alec, figure out who is murdering in their area. While attending to the people dining at an outdoor luncheon not long after Kendra ended up in 1815, a body of a young woman washes up on shore and the FBI in Kendra immediately kicks into gear. Before she can think about her station in this time period, she's examining the body and ordering directions. Despite her servant status and the fact that she is a woman – the Duke seems to trust Kendra's ability to deduce information from the body about the nature of the crime. She warns them that this person will kill again, that they have a serial killer on hand. The Duke's nephew, Alec, isn't so sure about Kendra, but he knows he can't refuse his uncle's wishes, so he allows Kendra to help them create a profile of the killer, as well as try to find out who this young woman was when alive.
I thought the blending of 1815 culture and tradition with Kendra's abilities and knowledge from the 21st century was done extremely well. Because of the Duke's fondness for Kendra, and his understanding that what Kendra says is true, gives Kendra more leeway to help with the investigation. Kendra is a strong person who has been through a lot in her short life, but when it comes to hunting serial killers, she knows what she's doing. She's smart and capable and even Alec starts to warm up to the surprising servant who stumbled into Aldrich Castle. There are a variety of interesting and important secondary characters in the book. Kendra ultimately comes up with a few suspects and since each one could seemingly be the killer, it's not an easy feat to guess who it could actually be, and I know I didn't!
It should be noted that this an adult title in terms of the violence and murder that is described in the book. This killer is vicious and brutal and he's torturing these women before killing them. There is very little in the killer's point of view, so most of these details come from Kendra or the surgeon, but nevertheless, it's something to note if these descriptions agitate you. Personally, I welcome the details as long as they are not gratuitous because they add an authenticity to the murders, as well as the time period since autopsies are done in a much different fashion without the tools we have today. A Murder in Time is a smart mystery, full of period details that just bring the setting even more to life, and it's one that I will surely read again in the future. Now I just need to find my own copy of the book and get my hands on the sequel too!