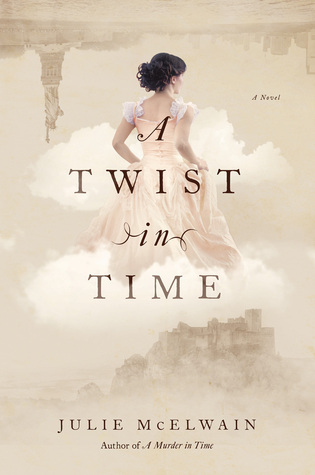 A Twist in Time by Julie McElwain
Review by Lauren
source: e-library copy; all opinions are my own
Official Summary (add to Goodreads): Former FBI agent Kendra Donovan's attempts to return to the twenty-first century have failed, leaving her stuck at Aldridge Castle in 1815. And her problems have just begun: in London, the Duke of Aldridge's nephew Alec—Kendra's confidante and lover—has come under suspicion for murdering his former mistress, Lady Dover, who was found viciously stabbed with a stiletto, her face carved up in a bizarre and brutal way.
Lady Dover had plenty of secrets, and her past wasn't quite what she'd made it out to be. Nor is it entirely in the past—which becomes frighteningly clear when a crime lord emerges from London's seamy underbelly to threaten Alec. Joining forces with Bow Street Runner Sam Kelly, Kendra must navigate the treacherous nineteenth century while she picks through the strands of Lady Dover's life.
As the noose tightens around Alec's neck, Kendra will do anything to save him, including following every twist and turn through London's glittering ballrooms, where deception is the norm—and any attempt to uncover the truth will get someone killed.
Review: The Kendra Donovan series is one I discovered on my library's e-site and I'm so glad I did because it's a new favorite of mine. A Twist of Time is the second in the series, which follows Former FBI agent Kendra Donovan, who has gone back in time to 1815. This all happens in the first book, so A Twist in Time continues with Kendra stuck in the past and helping with a new murder mystery. I love learning about this time period in England, and I feel like the author does a great job blending Kendra's twenty-first century mindset with the time period she finds herself in. Her secret is known by only two people and they are helpful in making sure she has what she needs and is able to help when the need arises. In 1815 England, Kendra would not be acting anything like a more modern woman, but based on her success in the first book, more people are willing to work with her when the Duke of Aldridge's nephew, Alec, is accused of murder.
A Twist in Time: A modern girl sent back in time to solve mysteries; 2nd book in a favorite series #ontheblog #bookbloggers
Click To Tweet
I thought the mystery was fascinating, and it's not one that I guessed until all was revealed. With a small cast of characters, the murderer could be guessed while reading, but I don't think it would take away much enjoyment from this book. While each book focuses on a different case, I do think these books should be read in order so that you are accustomed to Kendra's story and the other main characters that appear in both books. Both of these books are quite long, but I found them to be rather quick reads as I was immediately swept up in the story. The time period, the mystery, the possible return of Kendra to her own time period. It all works together to form one fascinating story! I can't wait for more from Kendra and the rest (third book out now; fourth book coming out next year).