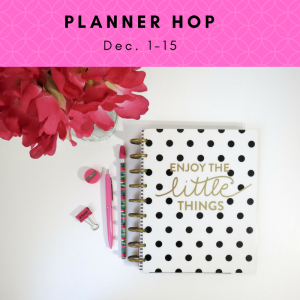 It's time for the Planner Hop, hosted by me and Anna from Herding Cats and Burning Soup. We are so excited to see all the fun planner related posts that you all share. You're welcome to do a new post, but you can always link up something you've done in the past! Giveaways are not a requirement, but again, feel free to host one if you wish. This might be a good way to get some new viewers. All posts must be linked up between December 1-15. If you do a giveaway, it does not need to end on December 15, but it should not end before the 15th so that people have time to enter!
Do you use a planner? Link up a post, giveaway, etc. at the Planner Blog Hop (Dec. 1-15) #planning #planners
Click To Tweet
The link up below is good for any post related to planners; just be sure to link to the actual post and not your main blog link or people will probably skip over it instead of searching, and we don't want that! If you don't have a blog, you're welcome to link up using Instagram too (just make sure your profile is open to the public so people don't have to follow just to see your post)!
Let me know in the comments if you have questions! I can't wait to see what everyone posts these next couple of weeks!