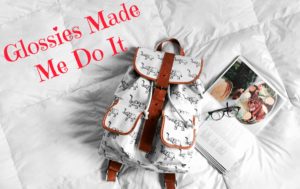 It's time for the August edition of Glossies Made Me Do It with Ashley from Happy.Pretty.Sweet. Has a magazine inspired you lately? New movie to check out? A recipe you tried? A product you had to buy? Whatever it is, if you write about it, we want to know, so link up with us below! This link-up is the first Friday of every month – so join us in the future. For August, I ended up buying this super cute s'mores kit online.
August – Glossies Made Me Do It….
Now, here's where I share the magazine that inspired this…but I honestly can't remember!! I must have accidentally gotten rid of the magazine where I saw this kit (I have a lot of magazines I get every month). However, I really think it was the August 2018 issue of Redbook, so if you're out and about and see it, flip through and see if it's there! Whoops – but at least I can still recommend the item I found! This s'mores kit is so yummy, so read on to learn more!
S'Mores Are Pure Summer!
Sure, you can eat s'mores any time of the year but there really is something about having them in the summer months! In the magazine-I-can't-quite-remember, I found these Artisan S'mores Kits from Ticket Chocolate and I fell in love at first sight. The kit they were showcasing actually wasn't available on the website at the time so I chose the Classic kit instead. Don't worry, I'm not complaining!
This kit is $19 and it contains:
Four perfect portions of our fine couverture chocolate, four gourmet marshmallows, and eight delectable hand-crafted graham crackers. – description from the website 
I finally dove into these s'mores last night with my mom, and we each had one (so yes, that means we have two left to hopefully savor this weekend!) My mom isn't a fan of marshmallow, so she skipped that, but I LOVED it. Everything just looks so delectable all on its own and adding them together? Yum!
How I "Made" These…
I don't have a fire pit, or fire of any sort to roast the marshmallows over (though I don't recommend that in case you lose the marshmallow in the fire), so I just used my microwave. I put one half of the graham cracker, the chocolate, and then the marshmallow on a plate and put it in the microwave for 10 seconds. I recommend starting at 5 though, because the marshmallow melts really quick. I just scooped what fell off the cracker back onto the chocolate, added the other graham cracker, and there you go!
These were seriously so yummy. I know the price is a bit high, and then you have to add in shipping, but it would make a really fun hostess gift or just a "you're hard to shop for" type of gift. I know I'd really appreciate someone sending me this, and I'm so curious to try some of their other s'mores kits now!
Glossies Made Me Do It: A yummy s'mores kit that would make the perfect gift! #ontheblog #smores
Click To Tweet
Talk to Me!
What do you think? Do you like s'mores? Would you buy a kit like this?
If you liked this post, check out another Glossies post with a summer must-have!
Have your own Glossies post? Link up and I'll check it out ASAP!