I'm back with another month's Glossies Made Me Do It, where myself, Erika from Cat Eyes & Skinny Jeans, and Ashley from Happy Pretty Sweet all showcase something we found in one of our magazines! If you'd like to take part, there is a link up at the bottom of the post. You have until June 23 to link up so please take part!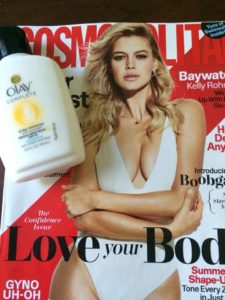 Today I'm featuring the June 2017 issue of Cosmopolitan Magazine. The item that I decided to check out that was featured in this issue was the Olay Complete All Day UV Moisturizer SPF 15 for Sensitive Skin.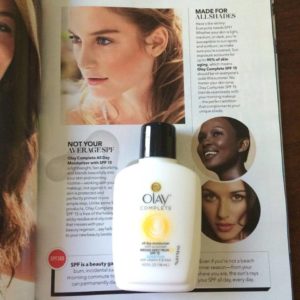 This moisturizer was actually featured on a couple advertisement pages in the middle of the magazine. It gives you some details about the product, including the fact that it's good for people of different skin tones. There is actually an article in this issue all about different types of products with SPF and how it's important for people of color to wear SPF too. While they have a lesser chance of getting sun burnt, they are still very much susceptible to skin cancer, so it's an interesting article!
Glossies Made Me Do It: Everyone Needs Sunscreen, So Try Olay Moisturizer with SPF 15
Click To Tweet
Personally, I'm really pale so I have to wear a lot of sun screen to make sure I don't burn. I went to the water park this past Monday and while I kept putting on sun screen, I ended up getting burnt randomly on my legs and other places and man, that hurt! I need to do better. However, I used this moisturizer on my face and I didn't burn at all there so that's points in its favor!
You only need a tiny bit to cover your face – you're supposed to re-apply every 2 hours. It's light and doesn't feel greasy at all. I put it on and then forgot it was there! You can put makeup on top of it, but I didn't. I just use this and it worked well!
Has a glossy made you do something lately? Share with us!
Don't forget to enter to win the Juniper Books special edition of The Hunger Games books. Great for any fan – new or old! It ends in about 17 hours – U.S. only!