FTC: I'm being compensated by Carole P. Roman and The Children's Book Review, but I'm posting because I genuinely think people will be interested! All interview questions are my own.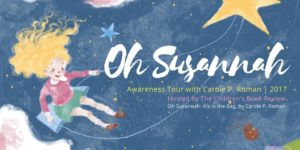 Oh Susannah Interview with Carole P. Roman
I'd like to welcome author Carole P. Roman to the blog. She's here today to discuss her newest book, Oh Susannah: It's in the Bag. Be sure to read all the way to the bottom so you can enter the giveaway and learn more about the book.
One: How did the first Oh Susannah book come to be? Did the title come from the song?
Originally it was It's in the Bag, but I thought it needed something punchy. One of my beta readers wrote me an email about the same thing. The dad says Oh Susannah in the last chapter- not the song- it's just how he talks to her- so I put it in the title and it worked.
Two: The book is illustrated by Mateya Arkova. How did the two of you come to collaborate together?
Mateya wrote and asked if I wanted to work with her. She sent some examples and I was just about to start my historical series. I loved her work and she inspired me to write Rocket-Bye, One to Ten, and Can a Princess be a Firefighter? She understands the look I want. I adore her.
Get your kids reading with Oh Susannah: It's in the Bag and check out my interview with author Carole P. Roman
Click To Tweet
Three: Do you have an idea of how many books there will be featuring Susannah?
I always shoot for ten.
Four:  In Oh Susannah: It's in the Bag, Susannah stuffs all her worries in her backpack. Did this idea or imagery come from anything in particular? Did you ever notice women's purses?
I don't carry one, but both my daughters-in law do. They are filled with so much. I think we carry our lives in there. When I used to carry a bag, I remember stuffing it with all my work, things that had to get done or handled. It bulged all the time.
Five: Do you work on one book at a time, or do you juggle multiple projects?
I juggle so much; they could give me a job in the circus. I have a 24-hour a day business. I manage my son's books doing all the publicity and promotion as well as my own. I am a wife, mother and grandmother and have all that kind of stuff going on. I am used to jumping from project to project. I usually have anywhere from one to five books being worked on.
Six: If you could wish on a real shooting star, what would you wish for?
Health. Always health, for us all.
It's Giveaway Time
Enter to win an autographed copy of Oh Susannah: It's in the Bag, by award-winning author Carole P. Roman; plus a "Cool Bananas" tumbler and "Havana" lunch cooler tote to stuff into your own backpack.
One (1) grand prize winner receives:
A copy of Oh Susannah: It's in the Bag, autographed by Carole P. Roman

A SunnyLife Havana Lunch Cooler Tote

A SunnyLife Cool Bananas Tumbler
Four (4) winners receive:
A copy of Oh Susannah: It's in the Bag, autographed by Carole P. Roman
Age Range: 7-10
Giveaway begins April 25, 2017, at 12:01 A.M. PST and ends May 25, 2017, at 11:59 P.M. PST.
Giveaway open to US and Canadian addresses only.
Prizes and samples provided by Carole P. Roman and The Children's Book Review.
Use the below link to enter the giveaway:
https://www.thechildrensbookreview.com/weblog/2017/04/win-an-oh-susannah-its-in-the-bag-prize-pack.html
Learn More about Oh Susannah and Buy Your Own Copy
Written by Carole P. Roman
Illustrated by Mateya Arkova
Publisher's Synopsis: From award-winning author Carole P. Roman comes a new chapter book featuring Susannah Logan, a young student having a very bad day. It all begins with homework trouble and an invitation to a sleepover that she doesn't want to go to. Would you want to go to a sleepover in a creepy house? Rather than dealing with her problems, Susannah stuffs them into her backpack. But how much can a backpack take? Will she be able to confront her worries before the backpack bursts? Or will she just continue to hide them away? Join Susannah and her friends in this story sure to charm busy young readers everywhere.
Ages 7-10 | Publisher: CreateSpace Independent Publishing Platform | April 3, 2017 | ISBN-13: 978-1543034615
Available Here: