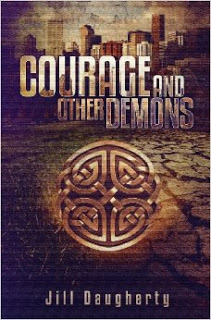 Jill Daugherty's novel, Courage and Other Demons, is currently available as a free e-book on Amazon from July 17-22 if you wish to start this series!

***
Hi, and
thanks for having me on Shooting Stars Magazine! I'm excited to let you know a
little bit about my books in
The
Courage Series
. I thought since my stories focus so
much on Irish folklore, and are also set in Denver, It would be fun to put
together a few top 10 lists that expand on those pieces of my stories.
My first
list focuses on the
Denver Art Museum (DAM)
, an educational, nonprofit resource
that sparks creative thinking and expression through trans-formative experiences
with art. Its holdings reflect the city
and region – and provide invaluable ways for the community to learn about
cultures from around the world. Wouldn't you want to go there? Even better – on
a date?
Top Ten Things to Do On a DAM (Denver
Art Museum) Date:
10. Stow
your jacket and bags in a DAM locker, making it easier to hold hands with your
DAM date.
9. Take the
DAM elevator to the 2nd floor and check out the latest temporary exhibit.
5. Grab a DAM sketchbook and sketch your
favorite sculpture.
3. If you're enjoying your DAM date, take a DAM
class to extend it beyond one day.
2. Have a
contest to see who can make the most DAM jokes.
1. Kiss your
DAM date under the giant chair at the entrance.
Another
focus of The Courage Series is
faeries, which were really decided by the origins of the story. Because it was
an Irish folktale, I decided to research Irish mythology to include in the
story and, of course, faeries are a huge part of that. I did have to work to figure out what I
wanted my faeries to be, because there are so many different faeries in Irish
folklore. I ended up taking little
pieces from many different types to create the ones in my books, and it had me
wondering how someone with their powers might use them for bad. So without
further ado, I present…
Top Ten Abuses of Faery Power
10. Use your
powers of invisibility to watch in the girls/boys locker room.
9. Use your powers of persuasion to convince
someone they want to go out with you.
8. Use your powers of telekinesis to catch a
pass in a football game.
7. Use your telepathic abilities to cheat on a
test.
6. Use your powers of persuasion to get you them
to buy you a car.
5. Use your powers to unlock locks to read your
sister's diary.
4. Use your powers of persuasion to convince the
coach to put on a cheerleading uniform during the pep rally.
3. Use your powers of persuasion to force your
date to tell you what he thinks of your new hairdo.
2. Use your powers of talking to animals to tell
a snake to bite your little brother.
1. Use your powers of telekinesis to make the
lottery numbers on your ticket drop during the drawing.
Jill Daugherty Bio:
Jill
Daugherty lives in Denver with Bailey, the world's cutest dog. By day, she
works with gifted children and their teachers. By night, she writes. A lot. She
is the author of the Courage series, which has received glowing reviews. At the
insistence of her readers, she has started work on a spin-off series.
Courage and Other Demons (Book 1) Synopsis

:
The end of the world will start in the suburbs of Denver with a faery
transfer student from Ireland. If you think that's totally ridiculous, then you
understand how Maggie O'Neill feels. In all of her sixteen years, faeries were
something you read about in children's books. They didn't actually show up on
your doorstep. They didn't kiss you and make your knees go weak and whisper
sweet nothings in your ear. Until Simon Brady, that is. Simon changed
everything. He makes her heart race and her skin burn with excitement, but he
has also changed her core beliefs about the world and made her see it as a dark
and dangerous place filled with monsters that belong only in the lines of faery
tales. There is no doubt in Maggie's mind that she loves Simon, but can she see
past who he is and find a place for him in her heart?
Abandoned Courage (Book 2) Synopsis:
Maggie O'Neill had a rough junior year… She fell in love with Simon. She
found out Simon was a faery. She spent some time with her dead ancestors. An
evil faery with control issues came after her and brought his groupies to kill
her. …but that was nothing compared to what's in store for senior year. She's
the new girl at faery boarding school and is subjected to something she never
thought she'd have to deal with in her entire life—mean girls. To make matters
worse, she's seeing less and less of Simon, her faery guard is smothering her
in their efforts to protect her, and the evil faery is still stalking her,
determined to kill her before she can kill him. She starts to wonder if she'll
make it to graduation. Then the unthinkable happens and she wonders if she'll
be able to survive even one more day.
Defining Courage (Book 3) Synopsis:
Eighteen-year-old Maggie O'Neill is a high school dropout. If her
parents knew, they'd probably kill her, but that's the least of her worries.
Balor—the evil faery from hell—is still stalking her, someone is still
betraying her, and the mean girl at school is still mean. The worst part of her
life, however, is figuring out how to live it without Simon. Will Maggie
discover a way to defeat Balor? Will she ever be able to out-snark the mean
girl? Will she find Simon? Tune in next week—uh, read the book—to find out.