I'm excited to be joining in on the virtual book tour for A Most Clever Girl: How Jane Austen Discovered Her Voice by Jasmine A. Stirling and illustrated by Vesper Stamper. I am being compensated for this post by The Children's Book Review and Jasmine A. Stirling; all opinions (as always) are my own. 
For my stop on the book tour, I am sharing a different kind of post. Once you've read the book, you can do the fun activity below!
Beyond the Book Activity for A Most Clever Girl: How Jane Austen Discovered Her Voice
Since A Most Clever Girl is all about Jane Austen learning to find her own voice when it comes to writing, I thought it might be fun to create an activity where those who read the book can practice their writing skills by mimicking famous writers (or using their famous characters). Sometimes you have to learn what others have done to be able to branch out and find your own writing voice.
Print the bookmarks I made below (you can use cardstock for more heft, or just print on regular paper). Cut out the bookmarks.
Put all the bookmarks inside of a jar or box.
Let your student/child/even yourself choose one bookmark at a time.
In a notebook, or on the computer, have them write something related to the prompt on the bookmark.
Once they are finished, they can use the bookmark…as…a bookmark! A little job well done gift!
The idea behind this activity is to let readers practice their own writing skills by copying or mimicking the style of a famous writer. They can also use famous characters and books as a jumping off point for their own stories. As they get used to various styles of writing, hopefully they will find one they like best and they can use that to begin discovering their own writing voices. Their limit is their imagination!
Writing Activity #1: Write a Sequel to a Dr. Seuss Book. Using the famous Seuss style, pick one of his books and imagine how a sequel would go.
Writing Activity #2: Write a story from the point of view of anyone in the Hundred Acre Wood…except for Winnie-the-Pooh. You can re-write a story that already exists – simply changing the POV – or you can write a completely new story. The point of view can be Tigger, Piglet, Eeyore, or any other character that's not Pooh!
Writing Activity #3: Say goodnight to something other than the moon. Most of us know the classic book Goodnight Moon by Margaret Wise Brown. Using that story format, say goodnight to something else!
Writing Activity #4: Write a silly poem like Shel Silverstein. I always loved the poems of Silverstein, which he published in collections such as Where the Sidewalk Ends. Read some of his poems for inspiration and then write your own silly poem in his style.
***
Now that you have your activity all set to go, it's time to read A Most Clever Girl, and thankfully there's a fantastic giveaway going on so you can try your hand at winning a copy!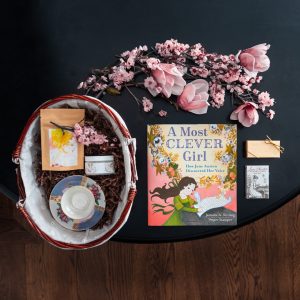 Enter for a chance to win a glorious Jane Austen-themed picnic basket, including a hardcover copy of A Most Clever Girl autographed by Jasmine A. Stirling!
One (1) grand prize winner receives:
A picnic basket filled with:
A copy of A Most Clever Girl: How Jane Austen Discovered Her Voice, signed by author Jasmine A. Stirling
A vintage teacup
1 oz of tea From Adagio Teas
Truffles from Moonstruck Chocolates
Gardenia hand cream
A set of Jane Austen playing cards
A $15 gift certificate to Jasmine A. Stirling's Austenite Etsy Shop, Box Hill Goods
Two (2) winners receive:
A copy of A Most Clever Girl: How Jane Austen Discovered Her Voice, signed by author Jasmine A. Stirling
The giveaway begins March 16, 2021, at 12:01 A.M. MT, and ends April 16, 2021, at 11:59 P.M. MT.
About the Book:
Witty and mischievous Jane Austen grew up in a house overflowing with words. As a young girl, she delighted in making her family laugh with tales that poked fun at the popular novels of her time, stories that featured fragile ladies and ridiculous plots. Before long, Jane was writing her own stories-uproariously funny ones, using all the details of her life in a country village as inspiration.
In times of joy, Jane's words burst from her pen. But after facing sorrow and loss, she wondered if she'd ever write again. Jane realized her writing would not be truly her own until she found her unique voice. She didn't know it then, but that voice would go on to capture readers' hearts and minds for generations to come.