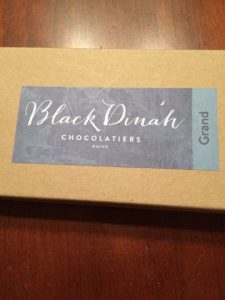 Black Dinah Chocolatiers 
Review by Lauren 
source: I was given the chance to try these chocolates for review, but all opinions are my own (also a sponsored post)
I like to think that October is the beginning of "food season". With Halloween, you want all things chocolate and sweets, Thanksgiving adds in even more food but dessert is still important, and of course Christmas is all about the chocolate, the cookies, the candy. Black Dinah Chocolatiers is company based out of Maine that sells amazing, uniquely flavored chocolates that would make amazing gifts. Us adults deserve to enjoy Halloween too, right? This chocolate could officially be "parents only" in your house! Some of these chocolates would make great gifts for a hostess, a boss, or even a good friend or close family friend. I know I'd be thrilled if I got a box of these!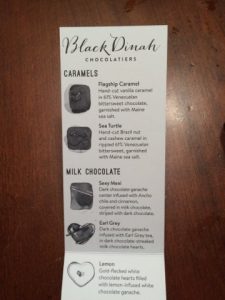 The company was kind enough to send me a box of chocolates so that I could properly try them out, and boy are they delicious! This is not your run-of-the-mill chocolates. These are meant to be slowly savored and enjoy, and I'm definitely doing that. One of the things that I really love about Black Dinah Chocolatiers is that the box came with a fold-out card to let me know which chocolates were which. Since the photos are not in color, some can be a bit more difficult than others to figure out, but the descriptions included helped with any confusion!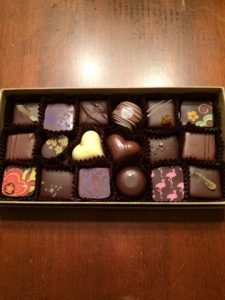 I'm still very much enjoying my chocolates, so I have not tried every single one. However, I have tried enough to give you mine and my sister's initital thoughts.
Sea Turtle: I'm such a fan of sea salt, and this chocolate is adorned with Maine sea salt. It was so very tasty!
Earl Grey: My sister is definitely the tea lover out of the two of us so this is one that she enjoyed more than myself, but it doesn't taste bad by any means.
Lavender: I love the design on this chocolate – it's so pretty and detailed. You almost feel bad eating it, but my box came with two so I had to try it almost right away. It definitely has a floral taste, but it's good. I could see this working well with some tea.
Gonne, Maude: this milk chocolate, with a ganache center, is also made with a little Irish whiskey. While I did like this one, it was by far my sister's favorite! She would highly recommend this chocolate.
While I tried a mix of items, there are so many other treats available on the website that I had to share some of the ones that I would love to try in the future. Plus, the website helps break things down by holidays, occasions, etc. so you're sure to find something appropriate for the occasion whether that's a gift or a holiday gathering.
Frogletiers: I'm a big Harry Potter fan, so these definitely remind me of chocolate frogs as each chocolate delight is topped with your choice of a green, blue or orange frog!
Pumpkin Spice Drinking Chocolate: For all of you who like pumpkin spice and hot chocolate, this drinking chocolate should be calling your name!
Pumpkin Patch Truffles: These little pumpkin truffles are the cutest thing! They would make a great hostess gift for someone hosting a Halloween or Thanksgiving gathering.
Small Chocolate Gift Tower: This would be the perfect thing to buy if you want to treat a friend or family member. It comes with two boxes of chocolates, so you can give it to more than one person if you like. It also includes a lot of the chocolates that I received so I can definitely say they are good!
Black Dinah Chocolatiers products is brought to us by a husband and wife team who makes sure to use local products provided by farmers. I love that they are keeping things local and supporting other local businesses. This makes me even more excited about supporting this company! They also have vegetarian, vegan, and gluten-free products available so there is a chocolate treat suitable for everyone!
What are the best chocolates for the holiday season? Click the link and get a coupon code!
Click To Tweet
What do you think? What product are you dying to try? Woud you gift any of these this holiday season? If you're ready to purchase, I have just the thing for you! Use the gift code Welcome15 for 15% off your first order!