It's Friday! Can you believe this is the final Friday in October? This month went by way too fast! But I had a lot of fun events to attend and things to do – including what I'm sharing today! However, don't forget to check out the following posts before you go: Chocolate for the Holidays (including a great choice for Harry Potter fans) and my Hunting Prince Dracula prize pack giveaway (ends October 30th!)
On Wednesday, October 18th, myself, a friend, and her boyfriend went to Walnut Hills High School in Cincinnati, Ohio to see John and Hank Green live. When we arrived, they were slowly letting people in so we got in the long line and inched our way up. Once inside, there was a table where you can write down a question for John and even a spot to take photos with card-board cutouts of the Green brothers. We bypassed all of this to where they were handing out Turtles All the Way Down tote bags which had a poster, our signed book, and a fun tour booklet with letters from John and even a couple games. The actual event took place in the auditorium and we were, thankfully, allowed to choose our seats, so we took three at the end of a row on the right side. It ended up being a good seat choice as we could easily see everything that was happening. Now, I'd love to recreate the entire event for you, but that would take way too long and I don't have that kind of memory, so I'm just going to list some of the things that happened at the event (if I include something out of order, it's my fault, sorry!)
Review of John and Hank Green's #turtlesallthewaydown tour in #Cincinnati!
Click To Tweet
One: John came out first to read an excerpt from Turtles All the Way Down, and then he introduced Dr. Lawrence Turtleman. Dr. Turtleman was Hank Green dressed in a turtle costume with a suit jacket on, as he's a professor (the turtle, not Hank). He gave a power point talk, which was informative and fun. If you don't know John and Hank very well, they make a lot of videos (they are the Vlogbrothers) but they also created Crash Course, which is an educational channel on Youtube, so this part of the event wasn't terribly shocking for people that know that.
Two: Dr. Turtleman left and John came back to answer some of the questions people in the audience had asked him. One of the questions was about the stigma of mental health and using medicine and how that changes you from the person you really are. John said he understood the sentiment, and he'd even given into that impulse at one point with bad results. He said he thinks that the stigma needs to be erased and that it should be okay to need medicine. It allows you to live your best life, in a sense. I really appreciated this as someone with mental illness who has been on medicine for years.
Three: Once Hank was back on the stage, they did a live version of their podcast where they answered other audience questions and generally had a good time. At the beginning of this segment, John was telling Hank that the last time they were in Cincinnati, it was five years ago, and did he remember? Hank said he did, and John said he did not, but that apparently Kenny and Amy were there. It was at this moment I realized what was about to happen – you see, Amy was the friend I mentioned earlier and Kenny is her boyfriend. Due to one of Kenny's friends and myself (who knew each other from high school), Kenny and Amy ended up meeting and talking that night. Apparently Kenny had sent a question about proposal advice to John and he suggested Kenny do it at the Cincinnati show…and here we are! They ended up on stage, the proposal happened, and they were repeatedly referenced throughout the night. One of the podcast questions was a girl who said this was the first time she was seeing John live, and he said "maybe you'll meet your future spouse. Probably not, but maybe." He also wished them luck at the end of the show, which was sweet. Afterwards, that night, John posted on Twitter and Facebook sharing a photo someone had taken of the proposal, congratulating them again.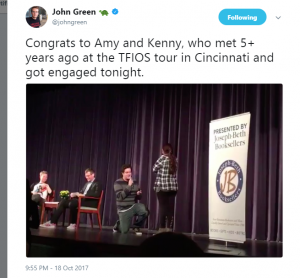 Four: If you don't know, Hank is a performer so he was on stage by himself for a bit playing the guitar and singing. This was a fun part because the songs are usually informative and/or quirky. He has a great voice though! It's not just a fun thing – he's really great live. He ended the set with "All Star" by Smash Mouth which was fun because people could easily sing along.
Five: John did a tribute to late friend and author Amy Krouse Rosenthal and told a story about going to one of her signings and how she said soldiers used to sing "I'm Here" over and over to the tune of Auld Lang Syne. It was a bit of a depressing idea, but John said he thought it could be positive too. I can't remember his exact words, but I took it to basically mean "I'm here" right now, in this place. "I'm here" living, surviving. So, along with Hank, we all sang "I'm Here." It was kind of a powerful, emotional moment, I have to admit. A nice tribute to a friend too.
Six: There were a couple other musical moments at the end of the show. John was talking about how when an artist plays a song, like "Sweet Caroline", and the part where everyone joins in ("Ba Ba Ba") it's supposed to be one big, communal moment of sorts. But he said, you don't know if everyone is singing…or if they are just mouthing the words. The only one way for it to really work is if NOBODY does that part. So Hank sang the song and the idea was to not do the audience part. John said it worked in Nashville, but he wouldn't say where it didn't work! I believe someone started to say it the first time, but they did it again and it was completely silent. It's kind of a cool experiment and it sounded really awesome with the sudden silence – since people were singing along with Hank right before that.
After this, Hank (and John doing some of the back up) sang a song from one of John's favorite bands, The Mountain Goats. John said the song usually feels relevant, but particularly this year. It was called "This Year" and the part where John sang in the back was "i am going to make it through this year/ if it kills me/ i am going to make it through this year/ if it kills me." I think that's pretty relevant, don't you?
***
And that's it! I think I covered most of the highlights. It was a great night seeing John and Hank live. They are a lot of fun together. It was also a special night seeing my friend finally get engaged after five years! Now I just need to find the time to read Turtles All the Way Down, which John did explain (he didn't say how it related to the book, of course, but he gave the story of where the title originally comes from, which is amusing!)