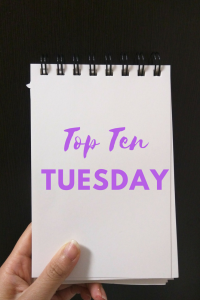 Today I'm linking up with That Artsy Reader Girl for Top Ten Tuesday. Feel free to leave your own links – or answers – in the comments!
Merry Christmas to everyone who celebrates – otherwise, Happy Tuesday! I hope you all have a wonderful day, no matter what you are doing or celebrating. While I might not have gotten any of these books under my tree this morning (or really, last night), they are still ones that I hope to get soon.
Merry Christmas - these are the books I hope I got under my tree this morning (AKA Top Ten Tuesday) #merrychristmas #ontheblog #bookbloggers
Click To Tweet
Books I Hope I Find Under My Christmas Tree This Morning
The Tales of Beedle the Bard: Illustrated Edition
Fantastic Beasts and Where to Find Them: Illustrated Edition
Whiskey in a Teacup by Reese Witherspoon
Becoming by Michelle Obama
The Four Tendencies by Gretchen Rubin
This Will Only Hurt a Little by Busy Philipps
The War Bride's Scrapbook by Caroline Preston
Rejected Princesses: Tales of History's Boldest Heroines, Hellions, and Heretics by Jason Porath
Working with People I Want to Punch in the Throat by Jen Mann
American Like Me: Reflections on Life Between Cultures by America Ferrera
Tell me: what books did you get for the holidays? Or what books will you be buying soon (perhaps with a gift card you received)?