It's the second Friday of the month and that means it's time for Glossies Made Me Do It – where I share thoughts, products, reviews, etc. based on magazines I've read. Feel free to join in – the linkup is at the bottom of this post.
Glossies: August 2020 Issue of Parents Magazine
The above image is from inside the issue, but the cover has Jenna Bush Hager and all three of her kids surrounded by books. A big portion of the August 2020 issue of Parents magazine is dedicated to reading. There are tips on how to get kids – of all ages – to read. There's a fun interview with Jenna herself about books and reading. Then there's a list of 100 Great Books for Kids. This particular list inspired me this month for Glossies Made Me Do It.
Glossies Made Me Do It: Books @shootingstarmag loved growing up!!
Click To Tweet
Glossies Made Me Do It: Books I Loved As a Kid (and would recommend!)
Two notes before I begin my list-
I'm counting books that I read as an 8th grader and younger. If I read the book in high school, it won't be on this list!
All purchase links are affiliate links. If you buy a book, I'll get a small percent at no extra cost to you – plus, with Bookshop, you're supporting Independent Bookstores!
I created a list on Bookshop.org with Books I Loved Growing Up, so if you want to purchase any of the books I'm about to talk about, please do! I'd appreciate the support and these are all awesome reads.
The Outsiders by S.E. Hinton: I read this book in 8th grade, and I fell in love (and with the movie too!) I was  – and still am – a fan of realistic fiction that tackles tough topics.
The Rainbow Fish by Marcus Pfister: I just love this picture book! I still have my copy in excellent shape.
The Giving Tree by Shel Silverstein: Another classic picture book. I also loved Shel's poetry books.
The Witches by Roald Dahl: I remember my 3rd grade teacher reading this one aloud. We all called her a witch because she usually wore all black and she had black shoes that were square at the toes (which you'll understand if you've read the book).
Harry Potter series by J.K. Rowling: This is the series that I read throughout elementary and high school. I'm pretty sure I read the first book when I was seven. In Bookshop, they don't have the first novel (for some reason), so I put the third since it's my favorite.
Stuck in Neutral by Terry Trueman: A pretty quick, but emotional read. I highly recommend.
Tears of a Tiger by Sharon M. Draper: This author is actually from Cincinnati, and that's where this book (and its companion novels) takes place. Another gritty, realistic fiction novel that I love!
Murder on the Orient Express by Agatha Christie: I read this in the seventh grade, I believe, for school. Afterwards, I read And Then There Were None on my own because my sister had a copy for her class (she was in the 9th grade).
Of Mice and Men by John Steinbeck: As I said above, I was in seventh grade when my sister was in ninth. She had this book to read for school and I read it first – just for fun.
Number the Stars by Lois Lowry: Another school read, and it was probably the first book I read that dealt with WWII and the Holocaust.
Dovey Coe by Frances O' Roark Dowell: This middle grade mystery is a book that I only read once, and yet I've never forgotten about it! I really want to get a copy to own, as I read it as a library book all those years ago.
Bridge to Terabithia by Katherine Paterson: Who didn't read this book and cry and cry? I really liked the movie too.
Amber Brown Is Not a Crayon by Paula Danziger: I don't remember how far into this series I got, but this is the first one! I remember enjoying what I did read.
Holes by Louis Sachar: Another book that I read for school. This is an MG book that boys and girls always seem to love. I thought it was wonderful!
Amelia Bedelia by Peggy Parish and Fritz Siebel: Oh, Amelia Bedelia. These are such fun, laugh-out-loud books. I have a special collection of some of the stories that I got as a gift when I was older. I love it!
Other Books I Loved Growing Up (but weren't on Bookshop.org)
These weren't available on Bookshop, so I couldn't add them to my official list, but I still wanted to mention them.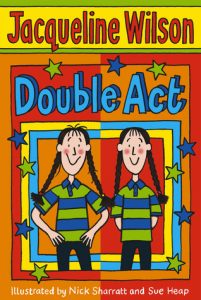 Double Act by Jacqueline Wilson: I know I read a variety of books by Jacqueline Wilson growing up, but Double Act is one that I particularly remember. I think it was the start (or around the start) of my love affair for books written in letter or diary format.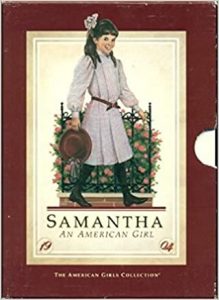 American Girl books: I read all sorts of American Girl books growing up. I'm showing Samantha here because I have her doll. I loved these books though, and I'm trying to collect them.
Mary-Kate and Ashley books: There were tons of Mary-Kate and Ashley chapter books based on their movies and TV shows. I read pretty much any of them that I could get my hands on, as I loved these two. I know I read a lot of the books based on their show Two of a Kind. I used to find these in the book section at Kroger's grocery stores!
T* Witches series by H. B. Gilmour and Randi Reisfeld: You might recognize this title from an older Disney Channel Movie with Tia and Tamera Mowry. They were a series of books first though, and another book that I used to find at Kroger's grocery stores (am I the only one who found books here??) Anyway, T * Witches stands for Twins. Witches. They were fun reads!!
Congratulations if you made it to the bottom of this post! Let me know which of these you've read. Any you haven't that you're now curious about? And remember, if you want to buy (some) of the books on my list, please check out my Bookshop! 
Have your own Glossies post? Link up here!
You are invited to the Inlinkz link party!