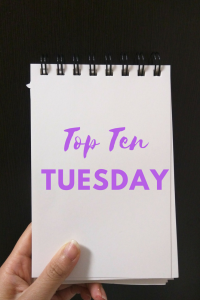 Top Ten Tuesday is hosted by That Artsy Reader Girl
10 Books On My Summer 2021 TBR
I'm somewhat of a seasonal reader. I like books that make good "beach reads" or are a bit lighthearted and/or humorous. However, I love mysteries/thrillers and I think those work really well in the summer too! Here are a mix of books that I actually own already and hope to get to this summer!
using affiliate links; if you purchase, I get a small percent at no extra charge to you

Summer Days and Summer Nights: Twelve Love Stories, edited by Stephanie Perkins, is a book I've owned for quite awhile now. I read the Winter/Holiday anthology and really enjoyed most of the stories so it's about time I checked out the summer edition!

Killer Content by Olivia Blacke is a book that I was recently gifted. I love cozy mysteries, and this one seems like the perfect "by the pool" read.

The Other Black Girl by  Zakiya Dalila Harris has been on my wish list for AGES. I won a pre-order and now I cannot wait to dive into this one. It's been compared to the movie Get Out, which I loved, so I'm definitely intrigued.

The Maidens by Alex Michaelides was my Book of the Month pick for June. I still need to read her last book, The Silent Patient, but I'm trying to keep up with my BOTM books (well, better than I have been) so I will probably end up reading The Maidens first.
Arsenic and Adobo by Mia P. Manansala is another cozy mystery. I was actually supposed to read this and discuss it with an Instagram group last month, but I completely ran out of time, so I'm hoping to get to it ASAP!

Wundersmith: The Calling of Morrigan Crow by Jessica Townsend is the second book in a middle grade series. I read and LOVED the first book, Nevermoor, last year, so I definitely need to dive into the second one. The third and final book has already been released too!

Scrappy Little Nobody by Anna Kendrick is another book I've owned for awhile, so I really need to read it soon! Plus, Anna Kendrick is one of my favorite actresses so I'm excited to check out her memoir.

The Family Plot by Megan Collins is a book that I have to review via Netgalley. I'm trying to really get through some of my Netgalley books, especially the older ones. The Family Plot, however, hasn't come out yet, but I still hope to read it soon so I'm on top of it and because it sounds great. I read her book Behind the Red Door last year and really liked it. Like I said above, I'm a sucker for a mystery/thriller!

Clap When You Land by Elizabeth Acevedo is a novel-in-verse that I've owned since it came out. I really liked her previous two books, so I must read this ASAP!

The Holdout by Graham Moore is an older Book of the Month choice, and I've wanted to read it for awhile now, so I must make the time. I've heard mixed things about this one, but I'm hoping that I'll enjoy it!
***
There you have it! Ten books I hope to read this summer! 
What's on your list?  
I'm celebrating Pride Month by having color themed prize pack giveaways. Each prize pack will relate to a color or more of the rainbow. They will be on various social media platforms, and my blog, but I didn't want you to miss them-
View this post on Instagram
Red Prize Pack Giveaway is on Instagram and ends tonight (U.S. only)
Orange and Yellow Prize Pack Giveaway is on Twitter and ends Tuesday, June 22 (U.S. only)
Be sure to follow me on the above social media sites, as well as my blog, so you don't miss the last few giveaways!