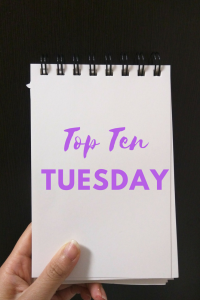 I'm taking part in Top Ten Tuesday with That Artsy Reader Girl 
Top 10 Tuesday: Funny Book Titles
These are all book titles that give me a bit of a chuckle when I read them. They are also all books that I have yet to read but are on my wish list! Have you read any of these? Oh, and it's really my Top 9!!
*purchase links are affiliate; I get a small % of any sale at no extra cost to you*

 Schadenfreude, A Love Story: Me, the Germans, and 20 Years of Attempted Transformations, Unfortunate Miscommunications, and Humiliating Situations That Only They Have Words For by Rebecca Schuman
The only option Bookshop had was the audio, which I don't use, but regardless, I thought I'd share the link in case you like audiobooks! What makes me laugh about this title is that the German language really does seem to have a word for everything. For example, Schadenfreude is essentially taking pleasure out of someone else's pain or misfortune. If you know the musical Avenue Q, then you've heard of it!
Working with People I Want to Punch in the Throat by Jen Mann
Mann actually has two other books in this "series" called People I Want to Punch in the Throat and Spending the Holidays with People I Want to Punch in the Throat. I've read and enjoyed those so I must check out this third one. And obviously these book titles make me laugh…I mean, come on!!

 Open Mic Night at Westminster Cemetery by Mary Amato
I find this book title funny just because it's so out of left field. An open mic night? But in a cemetery??? Color me intrigued! Plus, Westminster Cemetery is where Edgar Allan Poe is buried, and I love me some Poe.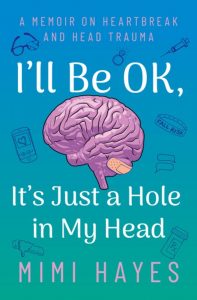 I'll Be OK, It's Just a Hole In My Head by Mimi Hayes
This title makes me laugh because it seems so wrong. I mean, you have a hole in your head, but you'll be okay?? How?? In reality, this is a book about the author suffering a brain hemorrhage at the age of 22, and I do love a good memoir!

How to Date Men When You Hate Men by Blythe Roberson
This book is essentially a nonfiction guide on dating men in modern society. But really, how can you read this title and not laugh? I'm so curious!

 The Men Who Stare at Goats by Jon Ronson
I mean…this is a funny title! And yes, the book was turned into a movie which I have not seen. However, I have read Jon Ronson's books So You've been Publicly Shamed and The Psychopath Test, so I'll read anything he writes. He's fantastic.

 Wow, No Thank You. by Samantha Irby
I've heard good things about this author, so I definitely want to read this book of essays. But as for the title – I love it in all its realistic simplicity. How often have you looked at someone and wanted to just go "wow, no thank you."

 Yeah, No. Not Happening.: How I Found Happiness Swearing Off Self-Improvement and Saying F*ck It All—and How You Can Too by Karen Karbo
Like I said above, how often do you wish you could just go "Yeah, No. Not Happening" in real life? This title just makes me laugh, and it sounds fantastic besides that. I do like self-help type of books because I find them interesting, so this kind of anti self-improvement book has me fascinated.

Ask Me What's For Dinner One More Time: Inappropriate Thoughts on Motherhood by Meredith Masony
I've said it many times before, but while I don't have my own kids, I find books about parenthood/motherhood to be fascinating and I especially love the ones with humor. This is another book title that just has to make you laugh – parent or not! If you have any experience with kids, it just makes you chuckle, because it's so true.
***
So there you have it! Nine books that I think have funny titles and happen to be on my wish list of books to read. Have you read any of them yet? Any on your own wish list?
I also find it amusing that most of these are nonfiction books. I guess they do lend themselves to funnier titles sometimes!
I have a couple giveaways going on that I don't want you to miss out on!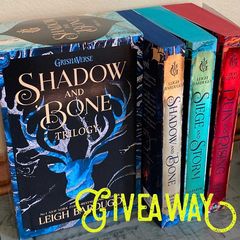 Instagram Giveaway: Win this Shadow and Bone trilogy box set, with sprayed edges on all the books (as you can see in the above photo). U.S. only and it ends on March 25.
Blog Giveaway: Win $15 to Amazon. U.S. and Canada only and it ends on March 31. This is also part of a giveaway hop so you can find a lot more giveaways by visiting my post!