I actually own a lot of celebrity memoirs that I need to still read, but I figured I'd share a list of ones that I have not purchased yet…but I want them! Do you want to read any of these – and if you already have, what did you think?!
Celebrity Memoirs on my To-Read list...do we have any in common? #bookbloggers #ontheblog
Click To Tweet
Blood by Joe Jonas, Kevin Jonas, Nick Jonas, with Neill Strauss
I've always been a fan of the Jonas Brothers, so I'm curious about their memoir. I feel like they are the type of guys that would be pretty open and honest about things they've gone through.
Who doesn't love Elton John? This is his first ever autobiography, and I think it will be fascinating!
High School by Tegan Quin, Sara Quin
Tegan and Sara Quin are twins who perform together – and they are both lesbians. I think this memoir, that looks back on their high school days, will be really intriguing. I love their music and I was excited when I learned they were releasing a memoir, so I need to get my hands on a copy!
The Greatest Love Story Ever Told by Megan Mullally, Nick Offerman
I love these two, and I love that they're married and have a memoir together!! Also, don't you love the cover?
Gracefully You: Finding Beauty and Balance in the Everyday by Jenna Dewan
I don't know a ton about Jenna, but I've essentially been following her for years – starting with her Step Up days. I don't know how much of this is a memoir, per se, but I am curious to see what she has to say about living well.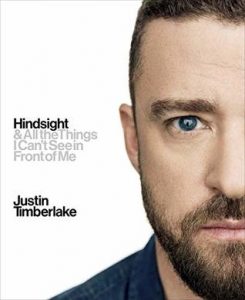 Hindsight: And All the Things I Can't See in Front of Me by Justin Timberlake
I've been a fan of Justin's since his time with Nsync, so I'm excited to check out his memoir. I never know how open celebrities will be in their memoirs, but I'm willing to give it a shot – and I definitely want to see what Justin has to say about his life and passions.