Happy Thursday, everyone! I'm back today with another Etsy shop spotlight in case you're looking for some fantastic stocking stuffer gifts this year (or any other type of gift). I'm excited to introduce you to Christina's Baby Boutique. She has some awesome gifts for kids, teachers, parents, daycare workers, etc.
Please help me spread the word and pin this image below!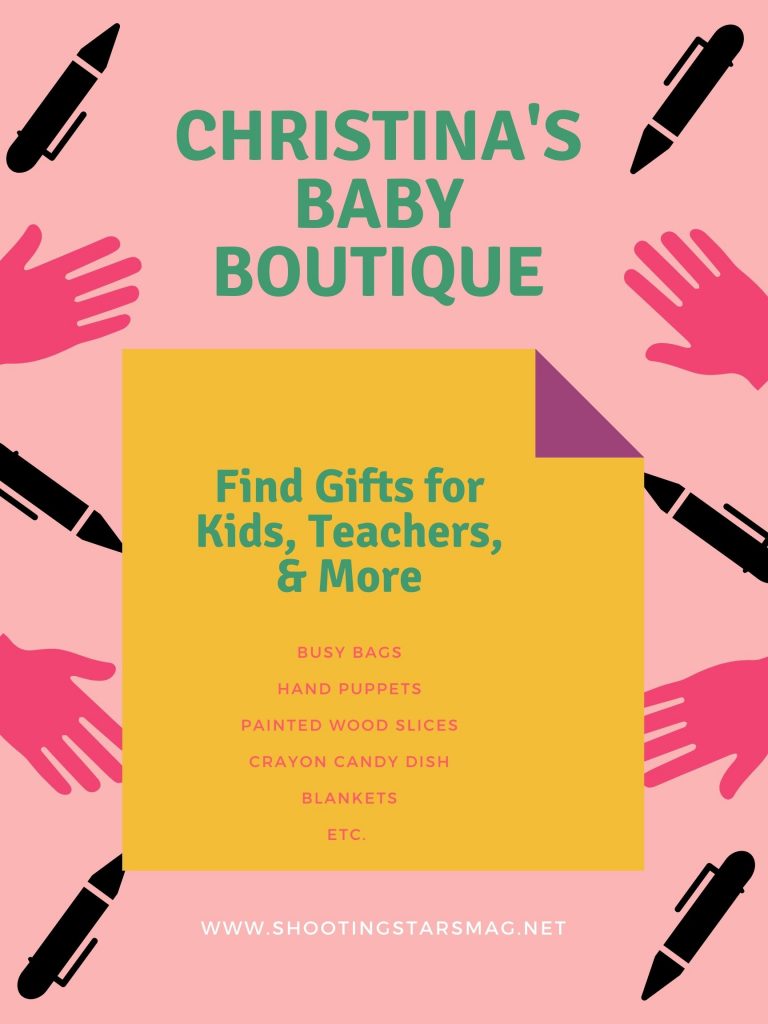 1. You have a lot of gifts for children – care to share what some of your favorites are? Or what your customers seem to especially love?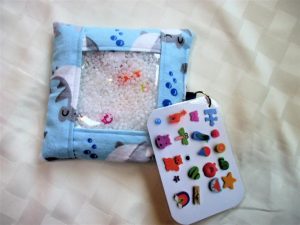 I have a back ground in early childhood education and I try to use that while creating some of my items. One of my favorite items is my busy bags. I love watching children when they pick them up at craft fairs and start searching for the items inside. My busy bags are a great quiet sensory toy for children too instead of electronics.
I really enjoy making my hand puppets and most of my themes have come from teachers looking for a puppet to go with a story or song. As for my customers I seem to sell most of all my items; I don't really have a popular item that stands out. They will sometimes go in phases were one item is popular for a week or 2 and then it will switch to something else.
2. Despite your Etsy name being Christina's Baby Gifts, you have items for adults too. What are some of these options?
I started my business 11 years ago just after having my first son and I started with mostly just baby items, but as my son grew, so did my items and now I don't really make many baby items any more. I started making teacher gifts and parent gifts when my son started at school and I needed a teacher gift at the holidays and it just kind of grew from there.
I have 3 boys and they all have helped in coming up with and creating teacher gifts that I have. My oldest son created my crayon candy dish I have for his 3rd grade teacher. My thanks for making me one smart cookie pot holders I created because my boys wanted to give gifts to other teachers in their building. I also have ornaments, wooden apples with sayings, flower pots, shadow boxes and much more.
I also recently start to get into paints and really like painting wood slices. I think my favorite is the bee hive one. I love how the bees came out.
3. Anything you want shoppers to know?
I put a lot of care into each item to try and make sure each item is perfect. I love watching children at craft fairs as they explore my tables and see all the items and the big smiles they get as they are looking.
****
Thank you to Christina for answering my questions and allowing me to show off her eclectic mix of items! See something you're interested in? Christina has kindly offered a coupon code for my readers:
DEC2020 for 10% off my entire shop till Dec 20th
There you go, you have plenty of time to start ordering some stocking stuffers, or teacher gifts, or even a little something for yourself.
Tell me, what do you have your eye on? If you buy anything, let me know! Don't forget to check out all my other Stocking Stuffer posts too (and the giveaways, with more to come!)