In my most recent Glossies Made Me Do It post, I talked about the December 2017 issue of Family Circle and how it inspired me to try out two edible treats. I'm back to talk about the first one, the Christmas Tree Pull-Apart Bread, which you can see in the magazine above!
I don't think the magazine would be terribly happy if I shared the recipe from a new issue, so I'll just talk basics. The above photo shows how everything looks when it's first set up (there is a mozzarella cheese inside those balls). I brought the tray above to my sister's place and we finished everything up there and popped it in the oven! It only takes 15 minutes to cook, which is awesome!
Holiday Appetizer: Christmas Tree Pull-Apart Bread #ontheblog
Click To Tweet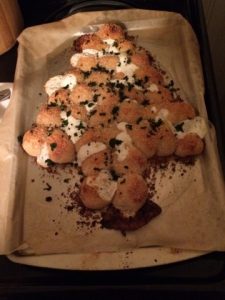 So, as you can see, the cheese definitely tried to escape a bit, but I think it turned out well and you can still tell it's a tree! The green on top is basil, which is more for the Christmas tree feel as you can't really taste it (in case you're worried about that).
We served it with marinara sauce – per the recipe – and it was a hit! It tasted really good, and everyone else at the party seemed to agree. I'm definitely keeping this recipe and using it for future Christmas parties! If you want the full recipe, it's the December 2017 issue of Family Circle. I'd check their website after this month though and see if they post the full recipe there – if you can't purchase the magazine (or borrow it from the library!)
What do you think? Does this look/sound good? Let me know your favorite holiday recipes, traditions, etc.!
I'm linking up with two holiday themed link-ups today: Victoria and Sarah for Favorite Holiday Party Recipe as part of their The Most Wonderful Time of the Year.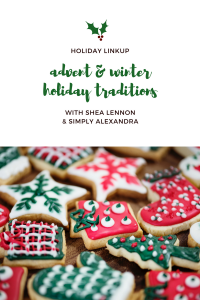 Also, Alexandra and Shea with their Holiday Traditions/Advent Calendar link-up (anything holiday goes, I believe!)