I'm linking up with Anne for Currently and Kristen for What's New With You?
Happy August everyone! I hope your summer has been going well. I know a lot of schools are opening up this month – are your kids going, or are you doing online teaching? I hope you're all staying happy and healthy!
Let's start with Anne's prompts for August, and then I'll add some more of my own to further let you know what I've been up to!
Currently/What's New With You (August 2020)
Choosing: to finally start working on my novel. I'd started another one and hadn't gotten too far, but this other idea has been in my head for awhile. I decided to really think about this one more and get started. I'm not abandoning the other story, but this one just works better for me at the moment. It's been awhile since I've really worked on my own writing.
Consuming: the Netflix show Sweet Magnolias. I watched all of it with my mom last week and we really loved it. I wasn't too sure at first, but then I really did fall in love with the characters. Just an FYI though – it ends on a big cliffhanger! There will be a season 2 though, so claps for that.
Enjoying: some fun books that I've been meaning to read, such as Nevermoor and The Bookish Life of Nina Hill.
Ordering: way more books than I actually need. However, I did buy a few "special edition" copies of Agatha Christie novels. I've read two of them before and love the books, and the third is one that I haven't read yet. I'm a big fan of Christie, so I thought these were some nice editions to own. Plus, I want to keep reading more of her work in general.
Remembering: all the birthdays that are coming up. My dad has one this month, my nephew has his in September, and one of my best friends has hers in September as well. I have others in the next couple months too but the three I mentioned are the ones that I definitely plan on getting gifts for, so I need to start figuring that out.
And now for some other fun prompts-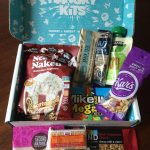 Snacking: on my Hangry Kit! I got the Gluten-Free version, but they have something for everyone.
Listening: I made a playlist for the book I'm writing, so I've been listening to a lot of those songs. Also, a lot of Kelsea Ballerini, McFly, and Nina Nesbitt.
Watching: so many HGTV shows. There isn't a ton on regular TV at the moment, so I kind of got sucked into shows like Love It or List It. It's just so fun, even as I complain about people being selfish and why does EVERYONE need a guest room?!
Waiting: for the weather to cooperate so I can finally try out my projector and screen to have a movie night. I'll be doing a review of it once I've gotten it up and running.
Craving: the Caesar Salad and Cheese Fondue from The Melting Pot. Yum. I love all of the chocolate too, but I'd be happy with just salad and cheese.
Worrying: about my health. I had another CT-Scan with Contrast last week and the blood clots in my lungs are gone. However, the pain I had started to come back (hence the new scan) and it showed that the fluid in my lungs has gotten a bit higher. By the time you read this I will have seen the lung specialist, so hopefully I will be on the right track to figuring out what's wrong and how I can feel better.
Whew! That's a lot of W's! Anyway, feel free to share your own Currently's in the comments or link up to your post! I love to read these!