Have you ever been Hangry aka Hungry + Angry? Yeah, the feelings real. Enter the Hangry Kit! Today, I'm going to share my review of the Gluten-Free Hangry Kit and fill you in on some fun ways you can use these kits in your summer staycation plans!
Your Hangry Kit will arrive in a simple box, but it's handy to keep your snacks in if you don't want to take them all out at once (or you know, share). There are even plastic kits, which I personally think is awesome. I could see those being great for the following:
road trips
college students
to re-use the kit for future snacks/goodies
camping
Gluten-Free Hangry Kit
The box I received for review (all opinions are my own of course) is the Gluten-Free kit as I'm supposed to be avoiding gluten for health reasons. I figured it would be fun to try out some different products and see if I can find some new snack ideas!
The above photo gives you a quick look at all the fun items I received in my box. Because I was pretty much the only one eating these, they lasted for awhile!
How To Use Your Kit This Summer
By the Pool: If you're lucky enough to be near a pool this summer, one of these kits would be the perfect addition. You can pack the snacks you want, or take the whole box! One of the plastic kits would be especially great here in case the outside got wet.
Camp In Your Own Backyard: Sure you could actually go somewhere to camp, but I want to focus more on staycation ideas. Why not camp in your own backyard – or better yet, your own living room? Some of these kits would be great for a camp out like the Gamer Kit and the Kid's Kit.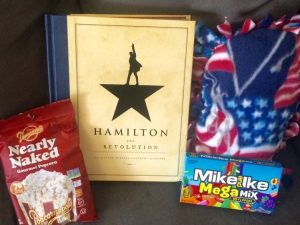 Movie Night: I took a couple of my snacks to my sister's place when we watched Hamilton the Musical. I had some yummy popcorn and a box of Mike and Ikes. Perfect for a movie night, right? Some other boxes that would be perfect are Super Sour Kit, Salty Kit, and the Peanut Butter Kit.
Each kit is $25 and the website lists everything that will be included in the box, so you can be sure you (or your recipient) will be happy!
My Gluten-Free kit was Charlie approved – and while I'm not supposed to eat Gluten, I have my eye on some of these other kits full of yummy goodness.
Which kit would you buy? And would you keep it for yourself, or use it as a gift?