Currently is hosted by Anne at In Residence
I don't think Anne has any prompts for August, but I love doing these type of posts, so I'm just going to create my own prompts to share some things. Feel free to join me in the comments, or leave a link to your own Currently post so I can come visit!
Currently: August 2022
Going: out of town with my mom and sister next week. I'll share more about the trip when I come home, but I am so ready to get away and just have some time to relax!!!!
Creating: a newsletter for my blog. When you come to my blog, a box will pop up asking you to join. If you do, you get a free Harry Potter/Fantastic Beasts printable that would be great for any book lover. It was created by the awesome Maria at The Krafty Planner!
I'd love to have you join, and don't worry – I'm not going to be spamming you with tons of newsletters. I'd just like a different place to share stories, fun information, and maybe even do some exclusive giveaways!
Planning: out the books that I want to take with me on vacation. I need to be able to fit them in my backpack/carry on, so we'll see what I end up bringing. I have six books right now – and my Kindle of course! I will have lots of time to read so I want to have plenty of options.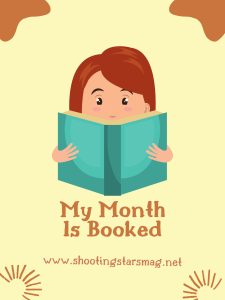 Announcing: a new monthly link up. Show Us Your Books was a monthly link up where people could share the books they'd read in the last month. The hosts decided to stop the link up, so I created my own. It's called My Month is Booked and you can read more about it here. I'd love to have you all join in, and feel free to use the above image in your posts!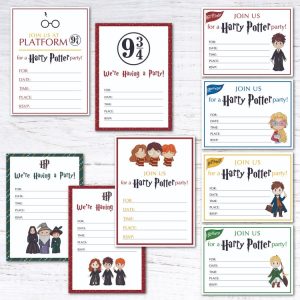 Sharing: all the fun Harry Potter printables that Maria made. These are all free so go ahead and print the ones you love. Halloween is approaching, so that would be a great time to throw a little Harry Potter themed party.
Her newest printables are Harry Potter party invitations. There are so many choices, and even one for each Hogwarts House, which I LOVE (you can see the images above)!
What are YOU currently up to?