This time of the year, I do most of my reading in one of two places. First, there is my front porch. This is great when the weather is not too hot and overbearing. I love to sit out there and read because my dog often cuddles next to me. It's relatively quiet, and it's definitely comfortable. If the weather is way too hot for sitting on the porch, then I like to read in the pool. Yes, I said in the pool. I love being in the pool during the summer, but I'm not a sunbather. I don't really like to sit outside and burn. I'd much rather cool off within the actual water. I have a round, above ground pool, so it's the same height no matter where I go. Therefore, I can take a book and simply walk around the perimeter of my pool, reading. Yes, your arms might get tired after awhile, since you're holding up a physical book. Just take a break, and then go back to it! It's probably the number 1 way I get most of my reading done in the summer months.
However, like any lover of books, I have definitely thought about my dream reading place, so I was excited when
Arhaus
suggested this post idea. Maybe you have something set up in your home already; a place to go, relax, and dive into a good book. For me, I don't have such a place, but I can certainly imagine the one I'd love. I think something akin to a home library would be suitable. There would be no TV, so there isn't a chance of disruption or someone else in the house trying to watch said TV while you want to read. There would definitely be a window that I can gaze out of, so that natural light can come into the room. This is also nice when it's raining, because I personally enjoy the sound and look of rain on the windows and it's not distracting at all.
Furthermore, I would need a really relaxing reading chair. It would need to be soft and comfortable, so that I could lose myself in a good book without shifting back and forth every five minutes. A possibility is this
Swivel Glider chair
.  Along with these two things, I would need the room to feel like the library I so want it to be, and that means lots of bookcases stuffed full of books. Personally, I have a lot of bookcases in my room already but it would be great to have a larger room to really display them. It would also give me the chance to have certain bookcases or shelves for particular book series or themes. I'm a collector of Funko Pops and almost anything related to Harry Potter, so these would be the sort of things I'd also like to have around the room, whether in the bookcases or hanging on the walls. And of course, I'd love to have special editions of certain books like this
Hunger Games set
from Juniper books (link leads you to my current giveaway).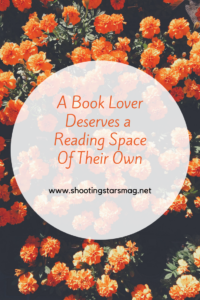 While not particularly imaginative, my dream reading space is realistic and something that I feel like I could actually attain someday. There would be soft rugs and plush blankets. The colors would be soft and pastel. There would be literary posters on the walls and of course, some nice
lighting
, perhaps a nightstand with a fun reading lamp like this
bicycle desk lamp
. This would be a place to get away from the real world for a bit and find myself lost in a good book. It would be a distraction from the technology that almost always surrounds us. Sure, I'll be blogging and reviewing about all the fun books I'm reading, but I don't need to think about that while I'm reading. This room would give me an outlet to de-stress and to whisk myself away to Hogwarts and beyond!
What about you? Do you have a dream reading space? Perhaps it's realistic like mine, or maybe you want something a bit more fancy and imaginative! It's up to you- but please do share below in the comments. I'd love to hear all about them!