Hey, everyone! I'm here today to share two m/m book reviews (one YA and one Adult), and they have something in common apart from the m/m genre: they both feature sports! Running With Lions by Julian Winters is a YA novel about soccer players and The Blueprint by S. E. Harmon is an Adult novel about two best friends who fall in love, and one of whom is a famous football player. I'm not the biggest real life sports fan – but I have to say, there's something about reading about sports that I really love. What about you? Any favorite m/m sports romances?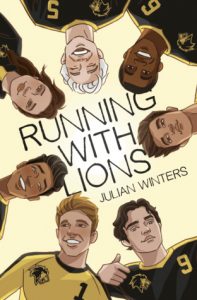 Running With Lions by Julian Winters
Review by Lauren
Source: copy from Netgalley; all opinions are my own
Official Summary (add to Goodreads): Bloomington High School Lions' star goalie, Sebastian Hughes, should be excited about his senior year: His teammates are amazing and he's got a coach who doesn't ask anyone to hide their sexuality. But when his estranged childhood best friend Emir Shah shows up to summer training camp, Sebastian realizes the team's success may end up in the hands of the one guy who hates him. Determined to reconnect with Emir for the sake of the Lions, he sets out to regain Emir's trust. But to Sebastian's surprise, sweaty days on the pitch, wandering the town's streets, and bonding on the weekends sparks more than just friendship between them.
Review of Running With Lions
Running With Lions is one of those YA LGBT+ books where nothing terribly bad happens. If you like your books with more angst or drama, then that might be a problem, but I think it's a good thing. Not all LGBT+ stories need to be full of difficulties. That's not to say that everything is always easy for Sebastian, Emir, or the others on his soccer team (whether they identify as LGBT+ or not). They have their typical high school problems, as well as a few surrounding their sexuality because no matter what, "coming out" is usually never a breeze.
While I'm not a huge sports fan in real life, I do like reading books about certain sports and soccer would be one of them! This is a sport that I played myself growing up, so it's one I can usually understand when reading about. Most of Running With Lions takes place over the summer when the soccer team attends a camp run by their coaches so they can practice, practice, practice for the upcoming year – which also happens to be Sebastian's final year of high school. I enjoyed reading about the soccer aspects even though I was inwardly cringing at all the running and playing they had to do in the summer heat! I'm glad I'm not them!
One thing that I really liked about Sebastian is that he's worried about life after high school. I could really appreciate this, because not everyone knows what they want to do when they grow up. It was easy to understand Sebastian's confusion and worry. As for his relationship with Emir, I thought they were really cute together. Emir is a bit of a grump, but he's super adorable when you get to know him, and I like that he tried to make Sebastian feel better about himself – it just showed that neither of them were perfect and that they made a good pair!
This was a fun read, and I'm curious to see what Winters releases next!
Do you like m/m sports romances? I have two new #bookreviews on the blog - Running With Lions + The Blueprint #bookbloggers
Click To Tweet

The Blueprint by S.E. Harmon
Review by Lauren
Source: copy from publisher Dreamspinner Press; all opinions are my own
Official Summary (add to Goodreads): Kelly Cannon is satisfied with his life. He has friends, a wonderful family, and a great job. But his love life has reached a new level of pitiful. Why? Well, his heart decided to break all the rules. Don't fall in love with a straight guy. And definitely don't fall in love with your best friend.

NFL standout Britton "Blue" Montgomery has pressure coming at him from all sides. From his father, who's only interested in Blue's football career. From his coaches, who just want him to play without getting injured again. From the fans. From his agent. And from his mother, who has popped up on the radar after leaving his family years before. And now his relationship with Kelly is on shaky ground, and that frightens Blue more than anything.

When Kelly admits he's in love with Blue, bonds are tested, and Blue has to decide what's really important. He doesn't want to lose the number-one person in his life, but the cost to keep Kelly close might be more than he's willing to pay.

It's a good thing his nickname is the Blueprint—it's time to draft a new set of plans.
Review of The Blueprint
To be honest, I'm not much of a football fan. I don't care too much it when it's on TV – though the rest of my family loves it – but I don't mind reading about it! Britton "Blue" Montgomery is a great football player, but he's also suffered injuries and this worries his best friend, Kelly Cannon. Kelly would love for nothing more than to have Blue retire and live a life that's not constantly "in danger" due to his job. Well, one thing Kelly would like more is for Blue to say he loves him and actually mean it as more than just a friendly endearment, like friends or family. Kelly has been in love with Blue for years, but Blue is definitely straight…right?
First, I should note that this isn't a gay-for-you scenario, though I don't necessarily mind those. Blue does use the word bisexual in the book, which is nice! We need more bisexual characters that aren't suddenly "gay" or "straight" depending on who they fall in love with. I really liked the friendship between Kelly and Blue. It's obvious they care about each other a lot and are meant to be in each other's lives. Of course, Kelly is having a more difficult time as he gets older seeing Blue as just a friend. He wants to be with him, but he knows it won't happen. On the other hand, he can't seem to fall in love with anyone else. When Blue does start to show Kelly his true feelings, things get complicated. Blue isn't ready to think about his sexuality and he definitely doesn't want to be an out football player. Kelly loves Blue, but he doesn't want to just "experiment" with Blue; he wants to actually be in his life, as a boyfriend.
It's a tough situation and I did feel for both characters. I wanted Kelly to get his happily ever after, and I could see how frustrating it would be to have Blue be a bit hot and cold concerning an actual relationship. However, Blue is now suddenly having to face his sexuality and that's not easy. He's not sure who he is or what he wants, and he's also suddenly injured again during a game and out of operation for awhile…it's a lot to deal with! I think one of the things people might not like is how jealous Blue can be. He's this way with pretty much any guy who shows interest in Kelly, which isn't fair, if he's not willing to say he's with Kelly, 100%. At the same time, it made sense. He obviously loves and wants to be with Kelly – so it's not easy seeing him with other guys. Also, his jealousy is kind of funny in some ways! Don't worry, though, Kelly doesn't let Blue dictate his life!
After reading The Blueprint, I realized there is going to be a sequel and it's going to continue following Kelly and Blue. I cannot wait! I definitely wanted more from these two after finishing the book. It will be great to see how they do in an actual relationship since The Blueprint didn't really delve into that too much.