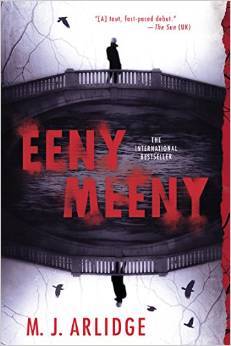 Eeny Meeny by M. J. Arlidge


Review by Lauren


Source: copy for review; all opinions are my own


Official Summary: Two people are abducted, imprisoned, and left with a gun. As hunger and thirst set in, only one walks away alive.
It's
a game more twisted than any Detective Helen Grace has ever seen. If
she hadn't spoken with the shattered survivors herself, she almost
wouldn't believe them.
Helen is familiar with the dark sides of
human nature, including her own, but this case—with its seemingly random
victims—has her baffled. But as more people go missing, nothing will be
more terrifying than when it all starts making sense….

Review: I am fascinated by stories such as these – the psychological thrillers that seem too insane to be true, yet you know that they could occur in real life. This isn't the book for everyone though. It's intense and full of horrible little details. At the same time, the pages move quick and you're left in suspense until the very end as to what is happening and how Detective Helen Grace will make it through.
Eeny Meeny is the first book in the Helen Grace series, and it was a huge hit in Europe before finally making its way to the U.S. this month. Helen Grace is a tough cop who everyone either looks up to, wants to be, or is a bit afraid of, but she knows how to get the job done. This new string of killings though has her baffled. Two people are kidnapped with the option of either them both starving to death or one person using the gun they are left with (only one bullet) to kill the other captive. If this is the route they take, they are set free, and yet, they will never really be free of what they were forced to do in order to survive.
Just this idea had me instantly fascinated and it was curious to see what the captives ended up doing and when. The book is told in third person point of view, so you are given insight into a variety of characters. You get both captives (during each kidnapping), Helen Grace, other cops on the case, and even some past memories and thoughts of the kidnapper (these are in italics in my advanced copy to differentiate from the rest of the book).
Overall, I loved this novel and it would be a great choice for people like me who like the psychology behind crime. I can't wait to read more from Helen Grace. The international editions of the next two, Pop Goes the Weasel and The Doll's House, are out now. The fourth title in the series, Liar Liar, is released this September.