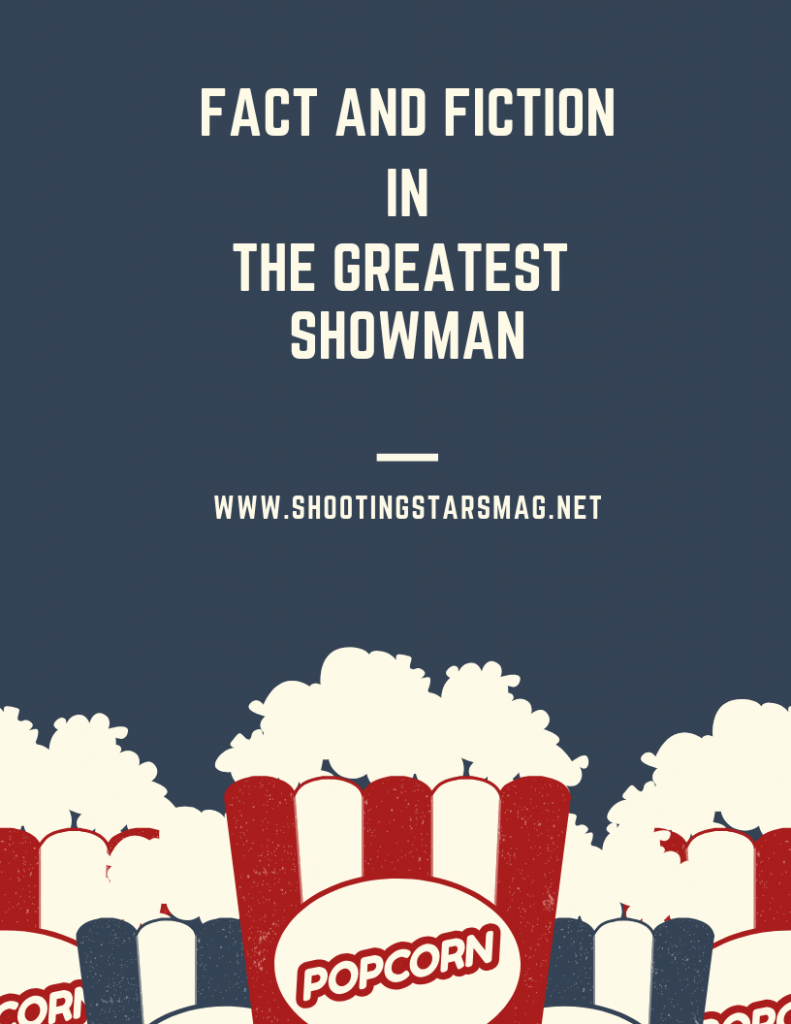 Fact and Fiction in The Greatest Showman
I know when the movie musical The Greatest Showman was released there was some controversy surrounding the fact that Barnum is made to look like a nice family guy who helped those who didn't fit into the mainstream. While that's not true, I was a fan of the movie and I thought it portrayed a great message and had amazing music. However, I thought it would be interesting to share some of the facts and fiction included in The Greatest Showman film, so here are 10 bits of information you might not have known about Barnum:
Fact and Fiction in The Greatest Showman #ontheblog
Click To Tweet
Barnum's start in entertainment was very racist. He rented Joice Heth, a blind slave, who he took around New York telling people she was the 161 year old former nurse of George Washington. When she died, Barnum charged people 50 cents to go to her public autopsy which is when people finally found out she could not have been much older than 80 years old. As for the circus, Barnum didn't get into that until he was 60 years old. The traveling circus came about when his museum burned down…twice (source).
Two of the The Greatest Showman's characters, Philip Carlyle (Barnum's eventual business partner) and Anne Wheeler (the trapeze artist), are not based on real people (source).
Barnum DID bring Jenny Lind to America but there was no romance or hint of romance between the two. Lind didn't like Barnum's over-promotion so she did the rest of the tour with different managers, instead of quitting altogether as she does in the film (source).
Barnum's actual partner was James A. Bailey (hence, Barnum and Bailey), and not Philip Carlyle (source).
Barnum's father did pass away when he was 15, but he had a mother and five siblings, which are not included in the film (source).
Barnum did marry Charity Hallett – they had four daughters and not just two though (source).
Charles Sherwood Stratton ("Tom Thumb") is in his twenties in The Greatest Showman, but in real life, he was four years old when he started playing "General Tom Thumb" (source).
Barnum did meet Queen Victoria (source).
The bearded lady – Annie Jones – was used by Barnum at the age of 9 months, as "The Infant Esau"(source).
The critic in The Greatest Showman is a real person – James Gordon Bennett- but his connection to Barnum, however, is that he tried to tell people that the Joice Heth/George Washington story wasn't real (source).
***
The Greatest Showman is now available on DVD, and you can also purchase the soundtrack (which I own and love). There is also a new release called The Greatest Showman Reimagined, where popular artists of today like Kelly Clarkson and Panic! at the Disco cover all the songs from the movie. I own this as well, but I still need to listen to it, but what a cool idea, right? Feel free to buy any of these items today and if you're ordering online, use Ebates to find the best deals and get money back (feel free to use my affiliate link)!