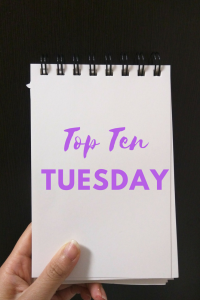 Top Ten Tuesday is hosted by That Artsy Reader Girl
It's been awhile since I've done a Top Ten Tuesday, but I always love these seasonal lists, so here I am! I'm not going to focus on books that I own, but rather the Fall 2021 book releases that are on my wish list. There will definitely be more than 10, but I assume you won't mind. I'm going to share affiliate links from bookshop so if you purchase through any of them, you support independent bookstores and my blog, because I get a small % of all sales at no extra cost to you.
Books on My Fall 2021 To-read List
I'm also being a bit lazy and not putting these in order, but they are all books coming out before the end of the year.
Out October 5th
Wayland Maynard is just eight years old when he sees his father kill himself, finds a note that reads I am not who you think I am, and is left reeling with grief and shock. Who was his father if not the loving man Wayland knew? Terrified, Wayland keeps the note a secret, but his reasons for being afraid are just beginning.

Out November 16th
LOVE. LOSS. REDEMPTION. After a party, two men accidentally swap their jackets and are thrust into a most opportune meeting. In each other they find what they've been missing. Love. Companionship. Trust. Honesty. Vulnerability. And they find everything they feared. Tragedy. Loss. Loss of self. Loss of freedom. Loss of each other.

Out December 1st
Delightfully cheeky, unquestionably charming, and sometimes maddeningly naive, cloth mage Paul Gallagher is desperately trying to make a name for himself in a reimagined postwar London. But in a world where magic is commonplace, sewing enchanted clothes is seen as little more than a frivolous distraction. Paul is hiding a secret, however: he possesses a powerful–and illegal–innate magic that could help him achieve his wildest dreams.

Out October 1st
Love, Comment, Subscribe, a fun, feisty romance about high school frenemies turned unlikely collaborators.

Out October 5th
Odessa Dean has made a home of Brooklyn. She has a fun job waiting tables at Untapped Books & Caf and a new friend, Izzy, to explore the city with. When she's invited on a girls' day out escape room adventure, she jumps at the chance. It's all fun and games until the lights come on and they discover one of the girls bludgeoned to death…

Out September 28th
Four teens have dug up the time capsule that their parents buried in 1986 and never bothered to recover. But in addition to the expected ephemera of mixtapes, Walkmans, photographs, letters, toys, and assorted junk, Elayah, Liam, Marcie, and Jorja discover something sinister: a hunting knife stained with blood and wrapped with a note. "I'm sorry. I didn't mean to kill anyone."

Out October 5th
So, I've written a book.
Having entertained the idea for years, and even offered a few questionable opportunities (It's a piece of cake! Just do 4 hours of interviews, find someone else to write it, put your face on the cover, and voila!) I have decided to write these stories just as I have always done, in my own hand.

Out September 28th
The Covid-19 pandemic was a world-shattering event, affecting everyone in the nation. From its first ominous stirrings, renowned journalist Eli Saslow began interviewing a cross-section of Americans, capturing their experiences in real time. 

Out October 19th or November 23 (Bookshop and Amazon say different things)
How did a low-budget British movie about Londoners battling zombies in a pub become a beloved global pop culture phenomenon?
You've Got Red on You details the previously untold story of 2004's Shaun of the Dead, the hilarious, terrifying horror-comedy whose fan base continues to grow and grow.

Out September 28th
Rachel Rubenstein-Goldblatt is a nice Jewish girl with a shameful secret: she loves Christmas. For a decade she's hidden her career as a Christmas romance novelist from her family. Her talent has made her a bestseller even as her chronic illness has always kept the kind of love she writes about out of reach.

Out October 26th
A powerful collection of stories about women who murdered–for revenge, for love, and even for pleasure–rife with historical details that will have any true crime junkie on the edge of their seat.

Out October 5th
Death lurks around every corner in this unforgettable Jewish historical fantasy about a city, a boy, and the shadows of the past that bind them both together.

Out October 5th
Pretty Little Liars meets Teen Wolf in this sharply funny, and patriarchy-smashing graphic novel from author Maggie Tokuda-Hall and artist Lisa Sterle. When the new girl is invited to join her high school's most popular clique, she can't believe her luck–and she can't believe their secret, either.

Out October 12th
In Aristotle and Dante Discover the Secrets of the Universe, two boys in a border town fell in love. Now, they must discover what it means to stay in love and build a relationship in a world that seems to challenge their very existence.

Out December 7th
From lauded writer David Valdes, a sharp and funny YA novel that's Back to the Future with a twist, as a gay teen travels back to his parents' era to save a closeted classmate's life.
Do we have any of the same books on our lists? Did you discover any new ones? 
It's that time of the month where you can sign up for mine and Shannon's monthly giveaway hop. Want to give away an October 2021 Book Release? We'd love to have you!
This hop is a chance to link up and give away any book/books!  Some info:
Please sign up only if you can commit to giving away a book. If you need to drop out, we totally get it, stuff happens. Just give us a quick heads up
The Hop *officially* starts on October 1, and runs until October 31 at 11:59pm. The sign ups close on October 12. 
We will remove links whose posts aren't up by October 15. Again, this is to ensure that people aren't clicking around to pages without giveaways. If you happen to forget and then remember, no problem, just reach out and we will get you right back on the list!
From now on, we will be posting ALL INFO in a Google Doc.  So you won't be getting an email from us- but if you need anything, PLEASE reach out! 
Do indicate if you'll be giving away internationally (thanks to The Book Depository, this is easy, yay!)
E-books/gift cards are fine, specific books are fine, just make sure you're clear on what the prize is!
Add the linky to your blog post.
Have FUN!!
Feel free to grab the button for your sidebar or what have you. And the link to the Google Doc is right here:
Time to Sign Up!
October 2021 Of Books Giveaway Hop