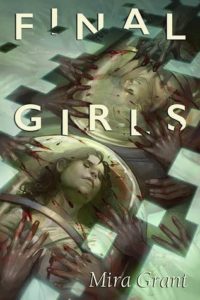 Final Girls by Mira Grant
Review by Lauren
source: copy from Netgalley; all opinions are my own
Official Summary: What if you could fix the worst parts of yourself by confronting your worst fears?
Dr. Jennifer Webb has invented proprietary virtual reality technology that purports to heal psychological wounds by running clients through scenarios straight out of horror movies and nightmares. In a carefully controlled environment, with a medical cocktail running through their veins, sisters might develop a bond they've been missing their whole lives—while running from the bogeyman through a simulated forest. But…can real change come so easily?Esther Hoffman doubts it. Esther has spent her entire journalism career debunking pseudoscience, after phony regression therapy ruined her father's life. She's determined to unearth the truth about Dr. Webb's budding company. Dr. Webb's willing to let her, of course, for reasons of her own. What better advertisement could she get than that of a convinced skeptic? But Esther's not the only one curious about how this technology works. Enter real-world threats just as frightening as those created in the lab. Dr. Webb and Esther are at odds, but they may also be each other's only hope of survival.
Review
: This will be a short review because I think Final Girls is something you just have to dive into, without knowing much beforehand. It's more of a novella than a full story too, so any revaluations could essentially be a spoiler. In really simple terms, Dr. Jennifer Webb has created a technology that can re-program someone, in a way, by putting them into a horror movie type of scenario. Esther is a journalist who goes around and debunks pseudoscience, so she's ready to do the same with Dr. Webb's technology.
Both women get a lot more than they ever set out for when things go terribly wrong. This novella was a mix of horror movie and science. It takes place in the present, and within the mind. While this might sound confusing, I found it easy to follow along. I thought Grant did a great job explaining what was happening without bogging readers down with too much detail.
Honestly, I could have used a longer book – or even another story featuring Webb's technology. It was just really fascinating!
Grant is an author I've wanted to read for a long time. This is the first thing I've gotten to from her, but it will not be the last!