Outside the Lines by Anna Zabo
Review by Lauren
Source: copy from Netgalley; all opinions are my own
Official Summary (add on Goodreads): Miniature artist Ian Meyers has one week to rebuild his damaged set. Needing help, he goes to End o' Earth, the local comic and gaming shop. Owner Simon Derry pushes all of Ian's buttons, and he also has steady hands and the skills Ian needs.

Before they can even grab a beer, Ian meets Lydia Derry, Simon's wife. If Ian had any interest in women, he'd suggest a threesome, but then Simon explains that he and Lydia are polyamorous, and if Ian wants Simon, neither of them will complain. If anything, Lydia encourages the relationship.
Ian's all in, and it's fantastic working with Simon to piece together his set and then take each other apart at night. His friendship with Lydia grows too. The only problem is, the more time he spends with Simon, the more he wants everything Simon already has with Lydia: A house. A cat. A commitment. So Ian runs, and shatters the trust he has with them both—right when they need him the most. Piecing their relationships back together might prove harder than a smashed set.
Review: This is the 22nd novel in the Bluewater Bay series, but believe me, they can all be read as stand-alones. In fact, most of the books are written by different authors throughout. Outside the Lines is actually the second to last in the entire series, and it's one that I really enjoyed. The TV show Wolf's Landing is filmed in Bluewater Bay, so the famous and the not-so-famous cohabitate, and that's the overall focus of these books. Outside the Lines is about Ian, who makes miniature sets for the show, and Simon and Lydia Derry – a polyamorous married couple. While Simon and Lydia are married, being poly means they are welcome to pursue other relationships too and that's what Simon does with Ian. I thought the whole relationship between the three main characters was handled really well and with a lot of respect, and it helps explain how a poly relationship works. There is some brief angst/drama, but it just helps them all become a stronger unit. Also, I should note that Simon and Ian are in a sexual relationship, but Ian isn't in one with Lydia as he's gay – he does however grow to love and care for Lydia as a friend/family member.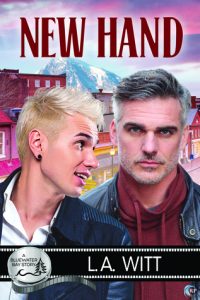 New Hand by L.A. Witt
Review by Lauren
Source: copy from Netgalley; all opinions are my own
Official Summary (add on Goodreads): Months after his husband's death, Garrett Blaine desperately needs a fresh start. He sells his house in Seattle, leaves his accounting job, and starts bartending in Bluewater Bay. There he meets a man who wakes up his nearly forgotten libido.
Jesse Connelly's friend with benefits bolted after Jesse disclosed his HIV status. Stood up and stinging, Jesse tries to drown his sorrows . . . and finds an unexpected connection with a lonely bartender.
Jesse and Garrett quickly bond over a shared love of comics and card games, and they can't get enough of each other between the sheets. Not even a bumpy start and a fifteen-year age gap can derail them as they go from strangers to lovers, then friends, then much more.
But as Garrett's feelings for Jesse deepen, so does his grief for the man he lost—especially as he sees hints of his late husband in his new boyfriend. Now Garrett has to figure out if Jesse is his second chance at true love, or if Jesse's just filling in for the man he's never fully grieved. And he needs to figure it out soon, because Jesse's starting to wonder the same thing.
Review: New Hand is the 23rd and final book in the Bluewater Bay series. While these can all be read on their own, if you want to read things a bit in order, I suggest Outside the Lines and then New Hand as you meet Jesse in OTL. Otherwise, you can easily read New Hand on its own. This book is about Jesse, who works at the comic book shop with Simon and Lydia Derry (from Outside the Lines) and who finds it difficult to maintain a relationship with anyone as he's been HIV positive for years. However, when he's stood up one night, he meets new bartender Garrett, who has recently lost his husband. Garrett doesn't think he'll fall for anyone so soon, but he can't deny the feelings he's getting for Jesse. I really liked how Witt handled both Garrett's loss and Jesse's status. These are two very big things in the characters' lives and I thought they were portrayed accurately and with respect, which is important. This is also an age-difference romance, which I find I've come to really enjoy lately!
Wild Trail by A.M. Arthur
Review by Lauren
Source: copy from Netgalley; all opinions are my own
Official Summary (add on Goodreads): Mack Garrett loves the rolling hills surrounding his Northern California dude ranch. Leading vacationers on horse trails with his two best friends is enough – romance is definitely not in the cards. When a sexy tourist shows up at Clean Slate, he's as far from Mack's type as can be. So why is the handsome city slicker so far under his skin in less than a day?
Roughing it in the middle of nowhere isn't anywhere near Wes Bentley's idea of fun. Then he lays eyes on the gruffest, hottest papa bear he's ever seen. But Mack is as hard to pin down as he looks – distant, sharp-tongued, and in desperate need of a shave. Until a campout gone wrong strands both men in the mountains with nothing to do but get to know each other.
Mack intends to keep his closely guarded heart out of Wes' very talented hands. But for a seven-day cowboy, Wes is packing some long-term possibility. The cold country air can do wonders for bringing bodies together – but it will take more than that to bridge the distance between two men whose lives are worlds apart.
Review: A.M. Arthur is one of my favorite authors so I was excited to check out Wild Trail, which is the first in her new Clean Slate Ranch series. I'm not usually someone to gravitate toward "cowboy romance" but I think Arthur has persuaded me to read more of them. Mack and Wes have both been burned by romance in the past, so while Wes is willing to engage in some vacation romance, Mack isn't sure he wants to get involved with someone who will only be visiting for a little while. I loved all the details about the ranch Mack lived and worked on, and it really showed his love and passion for the place. It wasn't his first choice of a career – you learn more about this in the book – but it's become a safe haven for him. Wes, of course, threatens to upset that a bit. However, the two eventually get to know each other and create a relationship that both of them would love to keep going after Wes leaves, if only they could figure out how to make it work. There isn't too much drama in the book (between Wes and Mack), and there is even a little bit of a mystery in Wild Trail! I definitely recommend, and I can't wait to see who the next book focuses on.
Obsession by Theophilia St. Claire
Review by Lauren
Source: copy from Netgalley; all opinions are my own
Official Summary (add on Goodreads): Nick has a hard life. Not only is he working at an East Harlem bar to make ends meet and pay for his sister's medical expenses, he's also on the run from a shady past that's surely catching up to him.
Most people think Claude has it easy due to the money and luxury surrounding him. But they would be wrong. Firmly trapped beneath his stern father's thumb, Claude's pre-determined life took a nosedive when his lover, Christian, left him a year ago.
When the two meet, sparks do not instantly fly between them. Claude thinks Nick is his ex-lover returned to him. Nick thinks Claude is crazy.
However, circumstances bring these two men together. And despite Claude's jealousy and possessive nature, Nick is falling for him. Sick of being mistaken for Claude's ex, Nick is willing to find out what happened to him—the real Christian. He'll have to if he wants a stable relationship with Claude. How Claude takes the truth, however, is the only thing that scares him.
Review: Obsession is a dark read, so it's definitely not for everyone. Nick falls for a man named Claude, but Claude only see his ex when he looks at Nick. It's a dysfunctional, abusive relationship, but I think the author did a good job showing why Nick stayed. The book also offers up some sympathy for Claude, though obviously not so much where what he does to Nick can be overlooked or forgiven. I thought the book was a relatively intriguing, quick read, but I have to say that I wasn't a huge fan of the ending. Most of it ends well, except for one aspect. I'd be curious to see what other people who read the book think of this moment, but I don't want to give it away for fear of any spoilers.
Four Mini M/M Book Reviews - anything catch your eye? #mmromance #bookreview
Click To Tweet