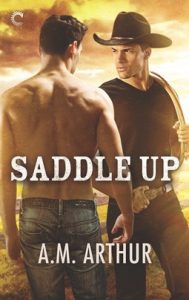 Saddle Up by A.M. Arthur
Review by Lauren
Source: copy from Netgalley; all opinions are my own
Official Summary (add to Goodreads): Reyes Caldero keeps his past buried deep and his emotions buried deeper. But what he doesn't say he always makes up for with his actions. When the hot chef he once saved from an abusive ex turns up at Clean Slate Ranch, the quiet cowboy is happy to act on their sizzling chemistry, even if he's not ready to share his secrets—or his heart.
Miles Arlington needs to get the hell out of San Francisco, and heading north for a job near Clean Slate Ranch seems like just the thing. It doesn't hurt that his secret crush slash onetime rescuer happens to work at the ranch. Miles has never been one for the outdoors, but the superhot Reyes has him ready to saddle up.
Reyes is happy to keep things casual, even though his heart has other ideas. And when Miles is forced to confront his past again, Reyes and Miles will have to put all their trust in each other if they want any chance at building a future together.
Review: Saddle Up is the third book in the Clean Slate Ranch series. While I really loved the first, Wild Trail, I wasn't as enthusiastic about Roped In. Regardless, I was pretty sure I was going to love Saddle Up – based on the characters it was going to focus on – and I was right! These books can be read out of order, as each one focuses on a new couple, but reading them in order might provide a better understanding of the ranch and secondary characters. Plus, both Reyes and Miles are in previous books – they just get their own story in Saddle Up.
From previous books, readers know that Miles has had some issues with an ex boyfriend but the full details aren't revealed until Saddle Up. It's so easy to feel bad for Miles – he's such a good guy who just wants to have a simple life, but his ex keeps him in an almost constant state of anxiety. When he decides to move to Clean Slate Ranch, he reconnects with Reyes, who is very protective of Miles. He's also attracted to the man, but he knows that Miles isn't ready for anything to happen so he keeps a respectable distance and is simply there for Miles as his friend.
I loved both Miles and Reyes so much. It was heartbreaking to hear all that Miles had gone through, and how he didn't really feel like he could tell anyone. I loved that Reyes was there for Miles but he wasn't pushy about his feelings, even knowing that Miles liked him back. There is a bit of an age-gap here – Reyes is older than Miles – but Miles is very mature and has gone through a lot in his young life, so it wasn't anything that was really touched on in the book.
Now, the biggest mystery in the book surrounds Reyes. He has a secret that he's never even told his best friends, and it's something from his past that he's just devastated about. He seems to believe he doesn't deserve love, but he can't stay away from Miles, even know that Miles might leave him when he finds out. The secret is shocking, but it also made me love the man that Reyes became. However, my biggest problem is probably that the reader doesn't really get to see Miles and Reyes working through this "issue" in their relationship, and it's a big deal! Regardless, I still gave this one four stars and I'm curious who will be the focus in book four (there better be a book four!)
Saddle Up is released on Monday, September 17 so pre-order your copy now!