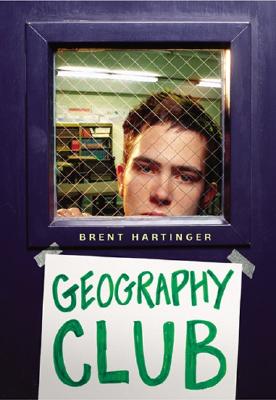 Geography Club by Brent Hartinger

Review by Lauren

copy sent for review, but all opinions are our own

Official Summary:

Russel Middlebrook is convinced he's the only gay kid at Goodkind High School.
Then his online gay chat buddy turns out to be none other than Kevin, the popular but closeted star of the school's baseball team. Soon Russel meets other gay students, too. There's his best friend Min, who reveals that she is bisexual, and her soccer-playing girlfriend Terese. Then there's Terese's politically active friend, Ike.
But how can kids this diverse get together without drawing attention to themselves?
"We just choose a club that's so boring, nobody in their right mind would ever in a million years join it. We could call it Geography Club!"

Review: I'm a huge fan of LGBT literature, and I think there should be more published by the bigger publishing companies, especially for Young Adults. However, one of those classic titles is Geography Club, which was released ten years ago! Can you believe it? I know I can't believe it took me ten years in to finally read the novel, and I'm so happy I finally had the chance.
Geography Club isn't about huge events, but that's not important. It deals with emotions and feelings- the ones you want, the ones you don't, and the ones you just don't understand. Yet. I loved that the Geography Club wasn't just about kids that fall under the LGBT spectrum, but encompassed anyone that felt like they had to hide their true selves or just wanted a place they could truly fit in. That's something I can relate too, and I'm sure many others could as well.
There are more stories about Russel out too, which is exciting, since sometimes you don't want to stop reading about characters you've started to enjoy. Russel doesn't always do the right thing and sometimes you want to yell at him to think about things more, but he's genuinely a good guy. He knows when he's wrong and he does try to make up for things in time. I can respect someone like that for sure, and hopefully I'm not the only one who is Team Russel. I also love Brian Bund, who is kind of the school's social pariah, but just wait until you get to know him better!
Overall, this was an enjoyable, quick read, and I'm excited to check out the next three titles!
Other Books in the Russel Middlebrook series–
The Order of the Poison Oak
Double Feature: Attack of the Soul-Sucking Brain Zombies/ Bride of the Soul-Sucking Brain Zombies
The Elephant of Surprise (released this year!!)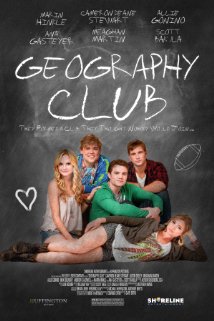 Geography Club the Movie!
That's right, Geography Club is now a movie, being released later this year (I don't have an exact date, but I can't wait and I hope it's somewhere near me so I can see it ASAP).
Please Visit the Movie Page to Watch the Trailer!
Brent had this to say about the cast (read more of the interview here):
It's got a pretty amazing cast too: Scott Bakula (Star Trek: Enterprise), Marin Hinkle (Two and Half Men), Ana Gasteyer (SNL), Allie Gonino (The Lying Game), Allie Maki (Ten Things I Hate About You), Andrew Caldwell (Transformers), and Nikki Blonsky (Hairspray, Smash). Russel and Kevin are played by two relative unknowns, Cameron Deane Stewart (Pitch Perfect) and Justin Deeley (90210), but they're both just terrific.
**
Another member of the cast I'm excited about is Alex Newell (who plays Ike) because he came from last season's The Glee Project. He's currently on Glee as Wade 'Unique' Adams. It will be exciting to see him in a feature film and as another character! Congrats to him on doing more beyond Glee!
**
If your high school had a Geography Club (aka Gay/Straight Alliance), would you join?
I definitely would have! I know my college had a version of it which I joined and really enjoyed for awhile. I think it's an important club to have, and it allows a lot of people a place to go and fit in.