This will probably be a pretty rare new feature, but at any rate, I'm here to share the first edition which I so originally called Fiction/Non-Fiction. In case it's not obvious, I'm reviewing a fiction and nonfiction book that go together in theme. Let's get started!
New Feature #ontheblog: Fiction/Non-Fiction - Go With the Flow + My Little Red Book
Click To Tweet
Fiction: Go With The Flow by Lily Williams and Karen Schneemann
Review by Lauren
Source: copy from publisher; all opinions are my own
Official Summary (add to Goodreads): Sophomores Abby, Brit, Christine, and Sasha are fed up. Hazelton High never has enough tampons. Or pads. Or adults who will listen.
Sick of an administration that puts football before female health, the girls confront a world that shrugs―or worse, squirms―at the thought of a menstruation revolution. They band together to make a change. It's no easy task, especially while grappling with everything from crushes to trig to JV track but they have each other's backs. That is, until one of the girls goes rogue, testing the limits of their friendship and pushing the friends to question the power of their own voices.
Now they must learn to work together to raise each other up. But how do you stand your ground while raising bloody hell?
Review: Almost all girls have periods, and yet, it's still a really awkward topic for many. I love that Lily and Karen came together to create a graphic novel about four high school friends who try to make talking about periods and feminie products less taboo. I definitely recommend this book for young girls who are about to have their period, but it's also great for those who already have one, as it might make them feel a bit more secure about it.
Periods can be annoying, and painful, and awkward, and I don't know many people who enjoy having them every single month, but it's a natural part of growing up and I like that there are books like this that can make it easier. The overall premise of the book is that one of the friends, Abby, is upset when she realizes none of the machines in the girl's bathrooms ever have sanitary products. But the football team can get new equipment. She does research, and even starts a blog, and she realizes that so many girls live in poverty and don't even have the money for these necessary products. I thought the authors did a great job sharing the history of menstruation, as well as how it affects women in today's day and age. I also really liked that each of the four friends in Go with the Flow have different periods, because it shows that this natural thing isn't always similar across women – one girl even has excruciating pain and has to miss school a lot.
Since this is a graphic novel, I have to mention the artwork. I really loved how each girl is drawn as unique individuals with different colored skin and body types. There aren't necessarily tons of details, because the color scheme is a mix of reds, but it still popped and made these girls come alive. I really felt like I got to know Abby, Brit, Christine, and Sasha, and I'd welcome reading more about them and their high school adventures in the future.
Non-Fiction: My Little Red Book, edited by Rachel Kauder Nalebuff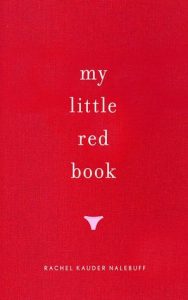 Review by Lauren
Source: personal copy; all opinions are my own
Official Summary (add to Goodreads): MY LITTLE RED BOOK is an anthology of stories about first periods, collected from women of all ages from around the world. The accounts range from lighthearted (the editor got hers while water skiing in a yellow bathing suit) to heart-stopping (a first period discovered just as one girl was about to be strip-searched by the Nazis). The contributors include well-known women writers (Meg Cabot, Erica Jong, Gloria Steinem, Cecily von Ziegesar), alongside today's teens.
Review: I think the official summary really tells you the main points of what this collection of essays is all about. I'm pretty sure I won My Little Red Book years ago and after reading Go With The Flow, I figured it was a good time to check it out. What I found interesting is that so many of the stories were about young girls who really wanted their period. I can't remember ever wanting mine, but granted, I grew up not really wanting a lot of "grown up" things like getting braces, driving a car, drinking alcohol when I turned 21, etc.
The book could definitely feel a bit repetitive if you're reading these stories straight through, so I recommend reading one here and there. However, I do applaud the editor for putting something like this together because periods are normal, but so many people don't talk about them. A lot of the stories in this collection from older women talk about how their moms treated periods as something kind of shameful – some didn't even know what was happening when they got one!
While many of the stories felt a bit too similar, I think that's comforting for some people – periods are normal, as are so many of the stories. I did really appreciate the different ones though!
Fiction/Non-Fiction: What do you think about this new feature? Would you read either of these, or recommend them to someone younger?