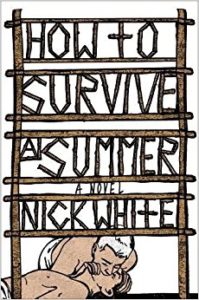 How to Survive a Summer by Nick White
Thoughts by Lauren
source: copy from Netgalley; all opinions are my own
Official Summary: Camp Levi nestled in the Mississippi countryside is designed to "cure" young teenage boys of their budding homosexuality. Will Dillard, a Midwestern graduate student, spent a summer at the camp as a teenager, and has since tried to erase that experience from his mind. But when a fellow student alerts him that a slasher movie based on the camp is being released, he is forced to confront his troubled history and possible culpability in the death of a fellow camper. 
As past and present are woven together, Will recounts his "rehabilitation," eventually returning to the abandoned campgrounds to solve the mysteries of that pivotal summer, and to reclaim his story from those who have stolen it.
Thoughts: This isn't a review because I actually ended up DNFing this one. However, since it's a book that I received for review, I wanted to at least explain my feelings a little bit and also share the book with you all in case you're interested. This wasn't a badly written book by any means. Perhaps I would have been able to really enjoy it at a different period in time. However, while reading, I just found it a bit too slow for my liking and it wasn't quite what I expected. I was very much interested in the mystery of Will's childhood at the camp, but I felt like there was too much detail about other aspects of his life – and his relationship with his mom, for example – that made continuing the book a bit of a chore for me. I'm sure it would have gotten more intriguing as it went on, and it's definitely a bit of a literary book, so those are often written in a certain style and slower in pace.  Basically, if this sounds good to you, give it a shot. I'm definitely not telling people not to read it. It just wasn't a good fit for me, at least at this time.