Okay, this is seriously one of the most awesome giveaways I've seen and I had to share it with you. Would you like to win your very own condo in Myrtle Beach? Not just for a vacation – it's YOUR condo. Or you could choose to get $50,000 instead, which isn't too shabby either!
Win your very own Myrtle Beach Condo OR 50k. Learn more #ontheblog #myrtlebeach #giveaway
Click To Tweet
Here are the full details about what you can win, as well as information on the condo:
Win an Oceanfront Condo and Change Your Life! Vacation Myrtle Beach, one of the largest providers of family vacation accommodations in Myrtle Beach, SC, is pleased to announce the launch of The Great Myrtle Beach Condo Giveaway contest, which features the grand prize of a furnished oceanfront condo at The Caravelle Resort located in Myrtle Beach, SC, valued at nearly $100,000 (or $50,000 CASH, winner's choice)!!! Other lucky winners will receive a 7-night stay or a 3-night stay at one of Vacation Myrtle Beach's oceanfront properties.
The newly renovated, oceanfront efficiency condo offers room for up to four guests and includes a fully-equipped kitchen. In addition to its prime Myrtle Beach location, the resort provides convenient access to all of the area's major attractions, restaurants, and things to do. Families and couples enjoy a wide variety of on-site amenities including an indoor pool, a block-long poolscape complete with a large pool, whirlpool, lazy river, kiddie lazy river, kids' pool, poolside bar, and plenty of relaxing deck options. In addition to everything you need for fun in the sun, the resort offers an array of dining options as well as an opportunity for rejuvenation and relaxation at its on-site spa.
For Official Rules and for more information about Vacation Myrtle Beach properties and deals, please go to: https://woobox.com/hsfeoo?source=usfam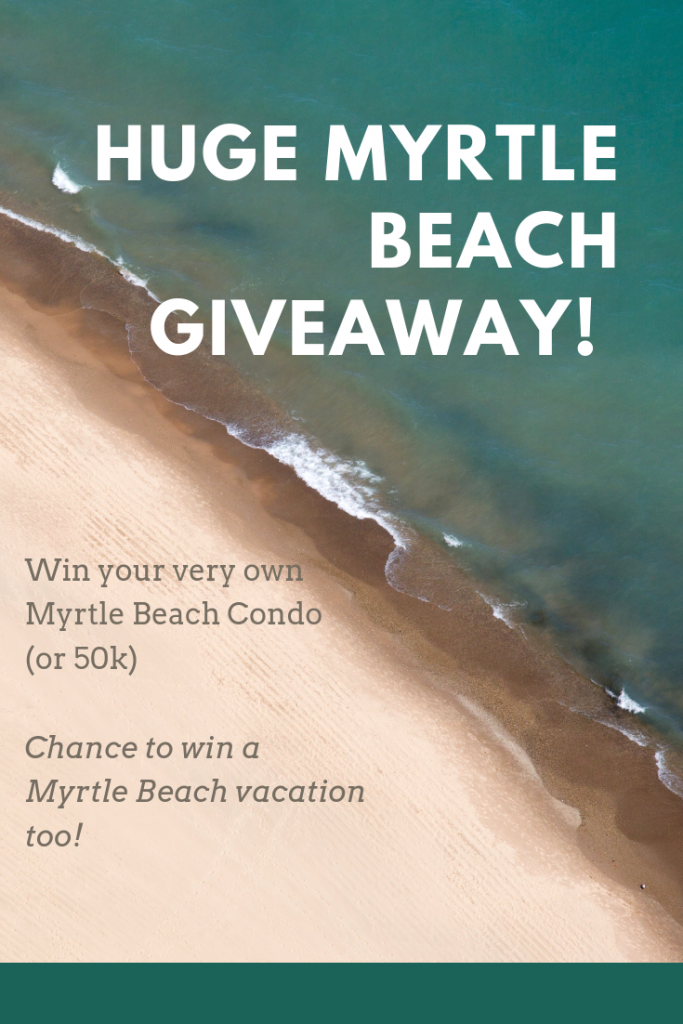 Umm…yes, please. I wouldn't mind just winning one of those vacations either. I've been to Pawley's Island, which is close to Myrtle Beach (so I've visited but never stayed there) and it's somewhere I'd really like to explore more. I've heard amazing things about Myrtle Beach from the relaxation to the fun activities you can do. My mom is a really big beach person, so I know going to Myrtle Beach would be high on her bucket list of things to do!
What would you do if you won a condo or vacation to Myrtle Beach? For me-
spend lots of time at the pool and beach
check out that whirlpool
T.I.G.E.R.S. Preservation Station – I read about this place a couple years ago on the blog Honey & Pine, and it sounds amazing! She got to feed and cuddle with baby animals like a liger (lion/tiger).
possibly a Dolphin cruise – I love seeing dolphins
explore all the various food you can eat at Myrtle Beach!
What about you? What would you do in Myrtle Beach? Have you been already – let me know what there is to do there! I would love to spend time there someday even if I don't win the contest (though *fingers crossed*).