Imperial Stout by Layla Reyne
Review by Lauren
Source: copy from Netgalley; all opinions are my own
Official Summary (add on Goodreads): It's a good thing assistant US attorney Dominic Price co-owns a brewery. He could use a cold one. Nic's star witness has just been kidnapped, his joint operation with the FBI is in jeopardy, his father's shady past is catching up with him and the hot new special agent in San Francisco is the kind of distraction best handled with a stiff drink.

Kidnap and rescue expert Cameron Byrne has his own ideas about how to handle Nic, but his skills are currently needed elsewhere. The by-the-book FBI agent goes deep undercover as a member of an infamous heist crew in order to save Nic's witness, break up the crew and close the case before anyone else gets hurt. Nic in particular.

Things heat up when Cam falls for Nic, and the witness falls for Cam. As the crew's suspicions grow, Cam must decide how far he's willing to go—and how far into his own dark past he's willing to dive—to get everyone out alive.
Review: I love author Layla Reyne and I really enjoyed her Agents Irish and Whiskey series, so I was very excited when I learned that two secondary characters from that series would now have their own books (series title: Trouble Brewing). One thing that I really loved about Imperial Stout is that there is a lot of action and suspense, and even a little mystery involved too. This is definitely not just a straight-up romance, though there is nothing wrong with those!
Domnic "Nic" Price is assistant US attorney, and he also co-owns a brewery, which is where the title of the book and series comes from. He loves his jobs and always seems impeccably well put together, but there are things about himself and his family that he keeps close to the chest. Unfortunately, his father has gotten himself into trouble and now people are after Nic – though whether they really want to kill him or not remains to be seen. As for Cameron "Boston" Byrne, he's a kidnap and rescue expect with the FBI but he has his own secrets. He hasn't always done things legally, but he's determined to put that behind him and be a better man, until his past proves important to an undercover operation.
Imperial Stout is a bit of a slow burn when it comes to Nic and Cam, but I thought it worked. There jobs mean they are in danger are a lot, and it's not easy finding time to build a relationship, even if they are attracted to each other. I liked the moments when they opened up to one another and started to see past their exteriors, especially with Nic, who usually seems so unflappable. Caring for each other doesn't make their jobs any easier because they can no longer be completely objective about each other putting themselves into danger – and there is definitely danger!
I can't wait for more Nic and Cam. The book ends with the overall story line wrapped up, but there is still more to come concerning Nic's dad – and I'm excited to see how Nic and Cam's budding relationship evolves! I definitely recommend checking out Layla Reyne's books. You can read the Irish and Whiskey series before this to better understand secondary characters and their relationships to each other, but I think you'd be okay starting with Imperial Stout too.
Imperial Stout is released on July 23 if you want to take this time to read Irish and Whiskey first!
Two new #mmromance book reviews on the blog: Imperial Stout + Tight Quarters #bookbloggers
Click To Tweet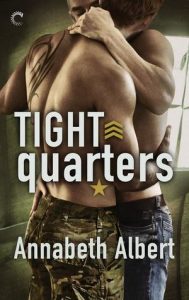 Tight Quarters by Annabeth Albert
Review by Lauren
Source: copy from Netgalley; all opinions are my own
Official Summary (add to Goodreads): Petty Officer Bacon, a navy SEAL and ace sharpshooter, has been on the front lines of more than his fair share of dangerous ops. Yet when a minor injury relegates him to the beta team, he's tasked with what may be his riskiest assignment yet: the silver fox journalist he's babysitting is the hottest, most charismatic man he's ever encountered.

Award-winning journalist Spencer Bryant may have been named one of Pride magazine's most eligible bachelors of the year, but he's not looking to change his relationship status. He's a consummate professional who won't risk his ethics or impeccable reputation by getting involved with a source. Even a sexy-as-hell military man. But while Spencer can resist his physical attraction to Bacon, he has less control over his emotions—especially when the mission goes sideways and the two men are trapped alone.

Getting out of the jungle alive turns out to be easy compared to facing the truth about their feelings for one another back in the real world. And whether or not they can build a future is a different story altogether.
Review: Tight Quarters is the 6th book in the Out of Uniform series. These can be read as stand-alone novels but you will read about previous couples in each book. This book focuses on Bacon (it's his last name), who we have met in the past. I've always liked Bacon – he seemed like a good guy and an awesome friend – so it was nice to get a book focused on him. Bacon is a Navy Seal and due to a very minor injury, he ends up having to "babysit" journalist Spencer Bryant during a mission. Since he'd much rather be out there helping his guys, Bacon isn't always his nice self when it comes to Bryant. However, they are both mutually attracted to each other and when Bryant's assignment is over, there isn't anything stopping them from acting on that.
Except…Bryant might be working on a story that would greatly upset Bacon, and it's not going to be an easy choice: the big story, or the guy? I liked that Bryant's choice wasn't an easy one. He really liked Bacon but he's a tried and true journalist and this particular story is really important to him, not just for the attention it could get, but who inspired the story in the first place. At the same time, I could see where Bacon was coming from.
This is an age-gap romance (Bacon is younger) but it wasn't a big aspect of the book. I thought the two guys were both on the same maturity level, for the most part, due to the things they'd gone through in life. They made a good pair and I definitely rooted for them to be together. I also wanted there to be some way for both of them to be happy and get what they wanted. I think Albert came up with the best possible solution in the end, and I do recommend this one.