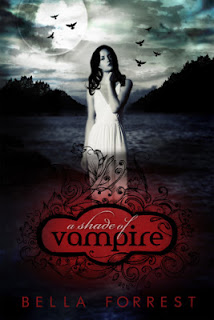 Interview with author Bella Forrest

Author of A Shade of Vampire (Buy the e-book for $3.99)
Other Versions to Buy-
USA, paperback
USA, eBook
UK, paperback
UK, eBook
Questions by Lauren

Book Summary: On the evening of Sofia Claremont's seventeenth birthday, she is sucked into a
nightmare from which she cannot wake.

A quiet evening walk along a beach
brings her face to face with a dangerous pale creature that craves much more
than her blood.
She is kidnapped to an island where the sun is eternally
forbidden to shine.
An island uncharted by any map and ruled by the most
powerful vampire coven on the planet. She wakes here as a slave, a captive in
chains.
Sofia's life takes a thrilling and terrifying turn when she is
the one selected out of hundreds of girls to join the harem of Derek Novak, the
dark royal Prince.
Despite his addiction to power and obsessive thirst
for her blood, Sofia soon realizes that the safest place on the island is within
his quarters, and she must do all within her power to win him over if she is to
survive even one more night.
Will she succeed? …or is she destined to
the same fate that all other girls have met at the hands of the Novaks?

Interview
1. A Shade of Vampire is called a young adult paranormal, but the summary
sounds like it could be a New Adult. To make things easier, what age range
do you feel the book fits into?
I would say anywhere from about 11 years upward. I even had a seventy-year
old contact me recently saying that she had enjoyed it!
So it's quite hard for me to define an age range, because the style of
this book seems to appeal to most ages.
2. Is A Shade of Vampire part of a series, and if so, how many books will
there be in all?
Yes. A Shade of Vampire is the first part of a series, although I am
undecided right now exactly how many books will follow it.
3. If you had to pick one song that fits the books (a situation, a
character, etc.), what would it be and why?
I don't know the answer to this one, because there was quite a variety of
music I listened to while writing this book. I don't think just one song
could encapsulate it – or at least, I can't think of one that does right
now.
4. Finally, are you a fan of other vampire stories, and if so, what are
some you'd recommend? If not, what other books do you like to read?
I am a fan of vampires, but if I'm honest I'm not a huge fan of a lot of
vampire books out there.

Although I do love the fantasy/YA genre – I adore Harry Potter and The
Chronicles of Narnia, for example.