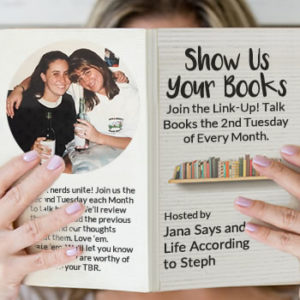 Second Tuesday of the month (yes, already!) and it's time for Show Us Your Books with Jana and Steph. I'm an affiliate with Bookshop.org – all purchase links are affiliate links. I get a small % at no extra cost to you – plus, Bookshop.org lets you support independent bookstores!!

Percy Jackson and the Olympians: the Lightning Thief by Rick Riordan, illustrated by John Rocco
copy from publisher; all opinions are my own
Review: I never read the Percy Jackson books growing up. When I was given the chance to read the first book in an illustrated format, I was very excited. As far as I know, this is the only book that was illustrated but I really hope more will come. It's such a fun way to enjoy the story. At any rate, I really enjoyed the book and I will definitely be continuing the series. I just loved Percy. He's a pretty awesome kid – not perfect but always trying to do better. I found him pretty humorous too. Fun start to the series!
View this post on Instagram
Bring Me Their Hearts, Find Me Their Bones, and Send Me Their Souls by Sara Wolf 
personal copies; all opinions are my own
Review:  I read an ARC of Bring Me Their Hearts before it was released and really fell in love with the book. Of course, like most series, I didn't pick up the next book. I decided to re-read Bring Me Their Hearts this past fall and then finally read the final two books in the trilogy. This is a YA fantasy series that I really loved – and fantasy isn't usually my go-to genre. I found Zera to be a fantastic character. She uses humor and sarcasm as a defense mechanism, so even when things get dark in the series, there is still plenty of humor.
The basic premise of the first book is that Zera is a Heartless. A witch has her heart, and to get it back, she is sent to the palace to steal the heart of the prince. It's a pretty imaginative storyline, and I really loved all the books. I will say that while most aspects of the series are wrapped up in Send Me Their Souls, there was one part that I would have liked more answers on.

The Hunting Party by Lucy Foley
personal copy; all opinions are my own
Review:  I read and loved The Guest List last year, so I was excited to check out The Hunting Party by the same author. I will say I liked The Guest List more – but I still enjoyed The Hunting Party. I chose it as the December pick for one of my book clubs, and it works well as a Winter read since it takes place at a remote resort over the New Year's Eve holiday. I wasn't entirely shocked by the person who ends up being the victim, but the murderer definitely surprised me, so still a good mystery all in all.
View this post on Instagram
You Better Not Cry: Stories for Christmas by Augusten Burroughs
personal copy; all opinions are my own
Review: I really love Augusten Burroughs. It's been years since I've read anything by him though, and You Better Not Cry is a book that's been on my shelf for just as long. I'm glad that I finally read this short collection of stories. All of them are nonfiction, as most of Burroughs work is, and if you don't know him as an author – he's led a really crazy life, so some of these stories are kind of wild. I found them to be a mix of humorous, sad, and weird. I didn't love every story, but it was a fairly quick read and I'd recommend to fans of the author or those with an odd sense of humor.
View this post on Instagram
In a Holidaze by Christina Lauren 
personal copy; all opinions are my own
Review:  This was my first read by Christina Lauren! It wasn't my most favorite book, but I did enjoy it. It's a Groundhog's Day version of Christmas. Every year Mae goes to the same cabin for the holidays, meeting up with her parents and brother as well as her parent's friends and kids. It's a fun tradition, but this year, Mae does something dumb and makes out with one of the guys she's grown up with. What's unfortunate is that she's really in love with the guy's brother. Turns out – she keeps getting a do over! I will admit that I was happy when the do overs finally ended, and the story was able to move forward. This was an emotional read in parts, but fun and romantic in others. I am curious about other Christina Lauren stories.
Holidays in Blue by Eve Morton
copy from Netgalley; all opinions are my own
Review: Cosmin Tessler and Eric Campbell are both at a crossroads in their lives. They grew up as neighbors, though Cosmin was in high school when Eric was in middle school. Their paths cross right before Christmas, and they end up in their childhood homes when a huge winter storm comes through. The two of them end up bunking together, trying to find information about Cosmin's late sister in his dad's affects. Of course, the two grow closer and a relationship blooms. I gave this one three stars. It's not a bad read, but I just didn't really connect to the characters or story as much as I would have liked. Things seemed to move a bit too quick, and it just didn't always feel realistic.
***
And now it's time to share some of the book reviews I shared on the blog between today and the last time I did Show Us Your Books!
I'm not going to share too much about these, but if you are a fan of m/m romance, check out my review post here and you can see what I thought about: Common Goal by Rachel Reid, Rocking the Boat and Burning it Down by C. Koehler, and Feel the Fire by Annabeth Albert. I also have a review of Right Move by A.M. Arthur.

Behind the Red Door by Megan Collins
Brief Thoughts: Behind the Red Door had such a great premise. I was just as confused as Fern most of the time, thinking I had things somewhat figured out and then being presented with a new clue – or a different suspect – and wondering all over again. I can't say that people won't ultimately guess what is going on, but I didn't have definitive answers until it was revealed, so it's still a book that kept me wondering.
My Full Review of Behind the Red Door  

The Night Swim by Megan Goldin
Brief Thoughts: There are a lot of tough topics at play in The Night Swim, but I think it was done well. I wanted all the mysteries to come together and for justice to somehow be done for both girls whose lives were wrecked by young men. In the end, I think the author did the stories justice, and personally, I'd love another book with Rachel Krall and her podcast!
My Full Review of The Night Swim  

Marion Lane and the Midnight Murder
Brief Thoughts: This was such a fun mystery!! I loved that it was set in 1958 London – historical mysteries are always a bit more exciting because they don't have modern day means of detecting. The whole world of Miss Brickett's was fascinating to me – it's literally housed underground and men and women train to become Inquisitors. They are essentially "law enforcement" that keep out of the spotlight and exact justice apart from the government.
My Full Review of Marion Lane and the Midnight Murder  
***
That's it from me! I also want to take this moment to say that I'm signing up for the Book Blog Discussion Challenge, hosted by Feed Your Fiction Addiction and It Starts at Midnight. I'm aiming for Discussion Dabbler, which is 1-10 discussion posts throughout the year. I really want to do more discussion posts, but I figured I'd start small and see how I do! If I get to 10, that's almost one a month!