Hey everyone! How has your week been? Today I'm here for another link-up with Simply Alexandra called Keep It Together. Share any posts – old or new – about bullet journals, planners, scrapbooks, Project Life – basically anything about memory keeping!
Keep It Together Link-Up: I found a new way to save future events in my planner! #planning #ontheblog
Click To Tweet
Today, I thought I'd share a new idea that I came up with for my everyday life planner. I love using my planner as a keepsake journal of sorts – I can look back in the future and see what I did, when I did it, and with whom. However, I'm often seeing events in my area that I'd love to do but I don't know if I will or not. I used to write them in my planner anyway, but I'd have to cross it out if I ended up not going and that doesn't look good. Yes, I know you could use white out or use only erasable pens…but I have an even easier idea!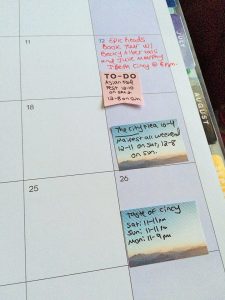 I decided to use little sticky notes and write down various events, as well as the days/times if it takes place over the weekend. This way if I do attend one of these events, I'll just go back and put it on the actual planner. If I don't make it to one, then I can take out the sticky note, throw it away, and no mess left behind!
I found a lot of different things that are happening in May and June, which is kind of the start of summer for most, so it makes sense. I live right by Cincinnati, Ohio so there are usually all sorts of outdoor events!
I would obviously love to attend all of these fun events, especially since most of them are free to get into. You just pay for any food or items you want. Pretty nice, right? You can enlarge all of these photos if you want to read the sticky notes more clearly – maybe you have similar events where you live! Let me know!
In June there are actually two different Pride events going on, which I'm excited about. I'm hoping to volunteer with GLSEN Cincinnati for at least one of them. I was meant to volunteer for the NKY Pride last year but I ended up being sick. Do you have Pride where you live? Have you ever been?
Anyway, let me know what you think of my new planner idea! And by new, I mean new to me…I'm sure other people have been doing something like this for awhile!
Want to link up with me and Alexandra this month? Please do!