Kings Island: Tricks and Treats Fall Fest
On Saturday, October 10, my mom, sister, and I went to the Kings Island Tricks and Treats Fall Fest. Kings Island is an amusement/water park in Mason, Ohio. Normally they have a Halloween event throughout October and then a Christmas event throughout December. Because of COVID, they decided to do this one Fall Fest in place of both. We social distanced, wore masks unless we were eating, and generally tried to stay as safe as we could. It was a good time though, and I'm glad we were able to attend!
While there were rides and games, we really just attended to eat! Since this Fall Fest is new to KI, they created something really fun with the food, with various places around the amusement park selling a Treat and a Trick. You could get regular food at all these places – and others – if you weren't feeling up to the Fall themed food. There's a card you can buy that lets you get six treats or tricks, which is a great idea. My sister did that and we shared some of her food, while paying separate for other things we wanted. I highly recommend the card if you're going to go this coming weekend (October 31 and November 1 are the final days) because it makes ordering so much easier – and saves you some money!
As you can see from the photos, we were given a card that told us where to go for specific food. The orange option is the Trick and the Purple option is the Treat. This was two-sided, so lots of fun options!
While we didn't taste absolutely everything – we did get quite a mix of food in throughout the day, so I thought I'd share!
Our first stop was the Meteor Canteen (you can see a bit of a roller coaster in the top of the photo). Here, you could choose between two different types of hot dogs. We all got the The Mummy – no Death Dog for us!
It wasn't a bad hotdog. Definitely a good way to start out since you're getting some protein before piling up on sweets as you go!
Next, we stopped at Coney Bar B Que and my mom and sister split The Ghost Rider, which is actually the trick option here!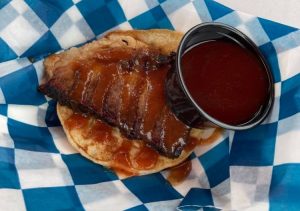 They really loved this. I took a small bite, but it's not really my cup of tea.

After that, we headed to Festhaus to try their Fall Mac & Cheese, which was the Treat. Toxic Mac was the Trick. My sister and I both got the Fall option and it was amazing. Seriously, this was one of my favorite foods the whole day. I don't know what all they had in it, but yummmm…and I don't even eat a lot of mac & cheese.
Once we were finished here, I stayed at the table we'd gotten and my mom and sister went to another stop – The Chicken Shack – to grab their treat option, Pumpkin Patch. It's essentially fried dough with chocolate sauce. It wasn't amazing, but it wasn't bad either!
After that, we figured more dessert sounded nice and we went to The Sweet Spot for some cupcakes.
I actually bought something completely different, but my mom and sister grabbed the cupcakes. My mom got the Treat (Candy Corn) and my sister got the Trick (El Diablo).
I tried both of them and honestly, El Diablo was my favorite. The icing (and candy on top) are the hot parts, but it wasn't anything too terrible. I told my sister it tasted like Cinnamon Altoids and she agreed. I'm not a big chocolate cupcake person, so the Candy Corn didn't change my mind on that – but the icing wasn't that great either. It was more of the whipped icing, and that's not my favorite. My mom didn't really care for it either.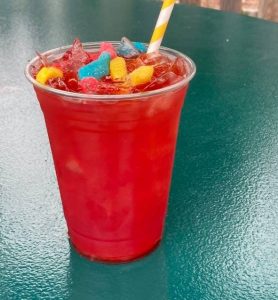 After this, I headed to one of the locations where you can get fun, Halloween themed drinks. I love that they had a whole selection of drinks where you could add alcohol or not. I don't drink, so I just got the "virgin" version if you will. I actually forget what this drink was called – but it was really good!!! Very sugary though, so be warned.
While I grabbed my drink, my mom and sister went to Rivertown Potato Works to grab some poutine. I'm pretty sure they got the Treat option – French Quarater Poutine. At any rate, they did enjoy it overall. I didn't eat any of this because, again, not really my thing.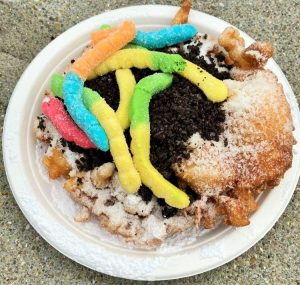 My final stop was to get a funnel cake. I chose the Trick option which was Worms in Dirt – the Treat was Pumpkin Spice. Normally the Worms in Dirt has whipped cream, but I don't care for that, so I just got the funnel cake with the dirt and the worms. It was soo yummy. I like funnel cake in general, but the little extras were fun and tasted well together.
***
And there you have it – a day full of being outside and eating lots of yummy food! I know I missed the signs for some of these places, but I wasn't always the one who grabbed the food (or I just forgot – whoops) but hopefully you enjoyed the photos and the "tour" if you will. And if you're in the Cincinnati or Mason area, go check it out this weekend!!! I don't know if they'll do something like this again in the future, but here's hoping, even if things are more normal in a year.
Would you eat more Tricks or Treats? Any particular food look especially good to you? Do share in the comments!!