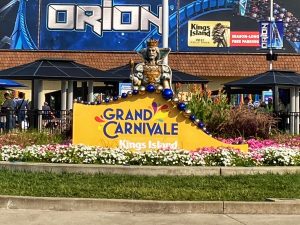 This past Friday, I went to King's Island in Mason, OH with my mom and sister. For two weeks, they were doing Grand Carnivale which was a festival celebrating various countries around the world. There was a parade, performances, decorations all over, crafts for kids, and of course…food! We essentially went for the food. We all bought a food pass which allowed us 6 tastings each from any of the countries. Since we all shared, we were able to try pretty much all of the food! 
When you first enter King's Island amusement park, you see a smaller version of the Eiffel Tower. It was proudly announcing the Grand Carnivale! 
One of the things that I love about King's Island is that all the buildings kind of look like houses. It's like a little village of stores and food options. Above is an example of how one of those buildings was decorated for Grand Carnivale.
And now, it's time to dive into the food!
Grand Carnival at King's Island: Traveling the World Through Food 
I'm going to go through the countries as we tried them. First up, we stopped in Italy and here are all the options you could choose from:
With the three of us, we all chose a different item from Italy. The only thing we didn't get was the dessert option.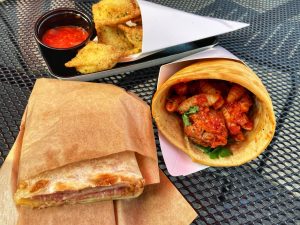 I thought all of Italy's food options were really good. My favorite was the option I chose: Cavatelli Cone, which was spaghetti and meatballs in a bread cone. YUM! The Fried Ravioli was also pretty tasty. My mom got the Piadina, which I've never had, but it wasn't bad!
Next up on the Grand Carnivale Food Tour was Germany!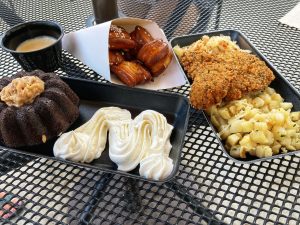 My sister chose the Wiener Schitzel with Kraut & Bratkartoffein (I did not try this, but my sister and mom seemed to liked it)
I went with the Pretzel Bites and they were oh so good!
My mom chose the German Chocolate Cake since it's her favorite and she loved it. It was quite tasty!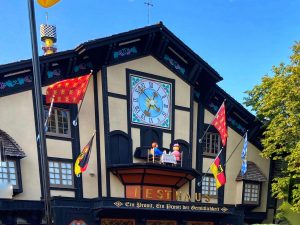 King's Island always has this building called the Festhaus with various food options. It was included in the German area for the carnivale and I thought it was decorated really cute. At times, music played and the people sitting on top would move and those black doors on the sides of them would open and more little figures would come out.
After Germany, we headed to Spain! Honestly, I just wanted the churros, but we all decided to choose something to try.
Pollo Ajillo – my sister got this and it was pretty good
Chicken, Shrimp, and Sausage Paella– this is what my mom chose. It was okay, but not my favorite.
Dulce De Leche Churros– this was my choice and it was pretty good! I loved that there were so many included. They definitely didn't skimp on the food portions!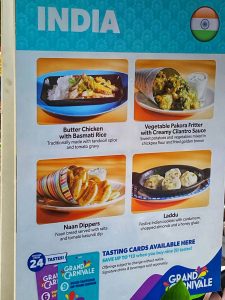 Next up was India! My mom ended up not getting anything from here, but my sister and I both chose something –
Butter Chicken with Basmati Rice: I didn't try this, but my sister and mom both thought it was a bit too spicy!
Naan Dippers: I chose these, and oh goodness, they were tasty. The dips covering them are raita and tomato kasundi dip. I could go for more of these!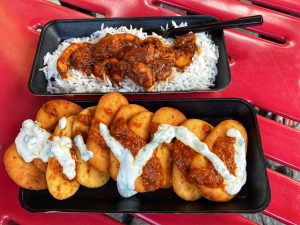 Each country had some cool decorations, and I really loved the ones they set up for India, so I thought I'd share a few photos –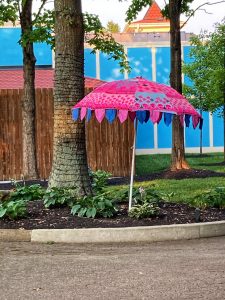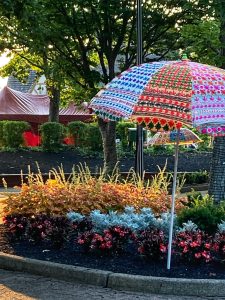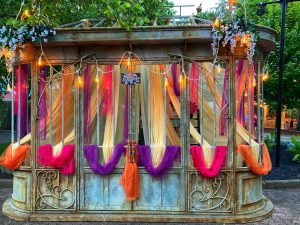 I loved all the colors, and there were quite a few of those umbrellas propped up throughout the area!
After India, we headed over to France, which was set up under the Eiffel Tower…
Here are all the items you could choose from: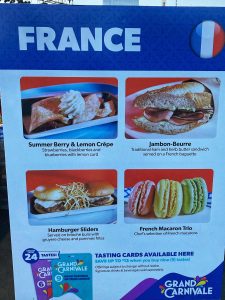 Since my mom didn't get anything from India, she had an extra "credit" if you will so she chose two items from France.
My mom got: Summer Berry &  Lemon Crepe and Hamburger Sliders
My sister got: Hamburger Sliders
I got: French Macaron Trio
I was getting pretty full at this point, so I didn't try the Hamburger Sliders – though my mom and sister enjoyed theirs. I took a bite of the crepe which was very light and sweet! I ate one of my Macarons, but I actually took the others home with me! I love that they were packaged in a box, so it was easy to take them.
And the final stop was China!
My sister really wanted the dumplings but they were out by the time we got there.
Chicken Fried Rice: My sister chose this instead of the dumplings. She wasn't a huge fan, but my mom enjoyed it a bit more.
General Tso Egg Rolls: I got these. It came with two egg rolls, and I liked it okay!
Almond Cookies & Fortune Cookies: This is what my mom chose. She brought the Almond Cookies home and they were really tasty.
Once we were finished eating, we waited around until 10 o'clock when they had their Grand Carnival Fireworks Show!
Despite some trees, we had a pretty great spot, and it was a beautiful fireworks display.
As we were leaving, the moon had settled next to the Eiffel Tower and it looked beautiful all lit up, so I had to grab a photo!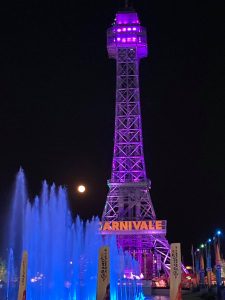 It was a really fun experience, and I hope that they do this again next year. I'm pretty sure Grand Carnivale at King's Island usually happens over the summer but I think this might be the first year they did the Food Cards. It's something they must definitely bring back because I would happily do it all over again!