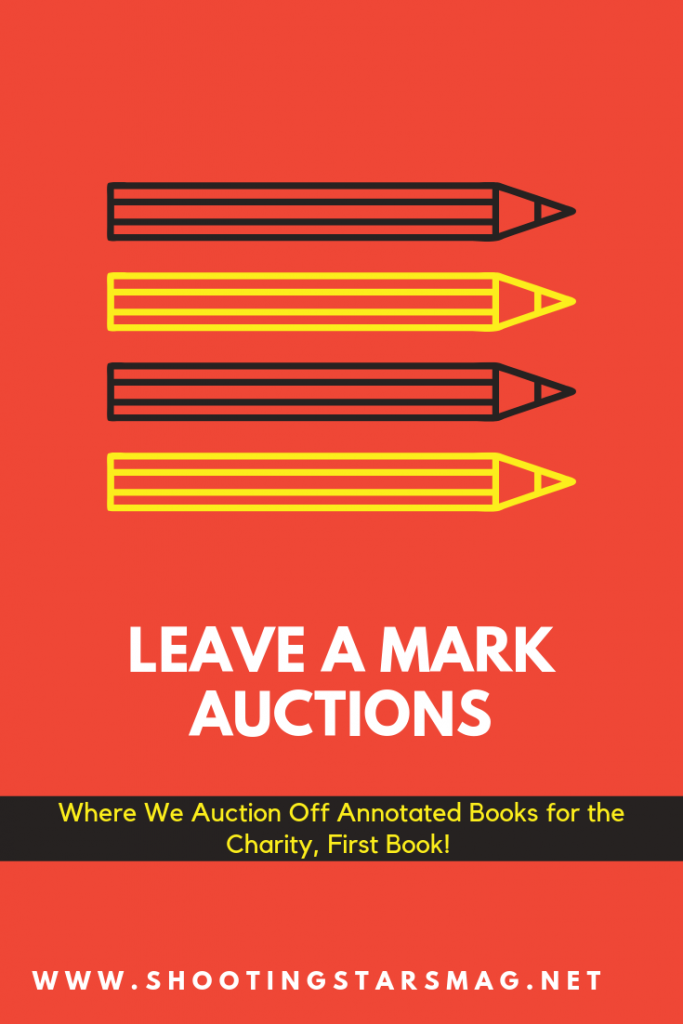 Bid on an annotated copy of Waste of Space by Gina Damico - all money goes to First Book #firstbook #bookbloggers
Click To Tweet
WHAT ARE LEAVE A MARK AUCTIONS?
authors mark up (or annotate) one of their books
other famous names (actors/musicians/etc) mark up (or annotate) one of their favorite books
these books are then auctioned off online. I've had websites for this in the past, but all of the auctions will now be on my blog so they are easier to find and promote
auctions start at $10 USD; bids go up in $1 increments. So the first person can say $10, the next person has to at least say $11, but they can go higher. Each auction will probably last about 2 weeks, but be sure to carefully read each individual post for any changes!
once the auction has ended, I will contact the winner and they can make their donation to First Book. They will forward me their donation email and I will make plans to mail out their book!
depending on who is mailing the book, that will determine who is eligible to bid (U.S., International, etc.)
If I'm mailing the book, I'm going to try my best to make them all International so people have a fair shot at bidding and winning one of these books.
Shipping is tough though, so if you want to help with my future shipping/blog costs, feel free to donate to my Paypal Account.
Ready to start bidding? Remember – if you are the highest bidder, your money will benefit First Book!
The newest auction is an ANNOTATED copy of Waste of Space by Gina Damico. You can check out Goodreads for a full summary.
Open to International Bids
Start at $10 USD, go up in $1 USD increments
if you have questions, feel free to leave a comment or email me
all bids go in the comments
Auction ends: Friday, September 13 at 11:59 p.m. EST